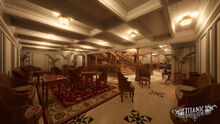 The À la Carte Restaurant Reception Room was the B Deck landing of the Aft Grand Staircase.
It was styled in Gregorian with Settees and Divans furnished in Carmine silk. Double doors on both sides of the Aft Grand Staircase led to First Class Staterooms. The more wealthier passengers reserved a table in an À la Carte Restaurant and if they booked for meals in the Restaurant for the entire voyage, they were given a rebate. Before meals, passengers would wait in this reception room until the doors were opened. Access to the Café Parisien was from double doors located in the Reception Room and down a corridor leading to the Restaurant.
RMS Olympic
Edit
The reception room for the restaurant originally didn't exist on the ship. However, the room was added later during the 1913 refit and it was sandwiched between the cafe and restaurant.
HMHS/RMS Britannic
Edit
On Britannic, the reception room was placed between the restaurant and the aft grand staircase. However, the reception room was expanded to the ship's hull.
This room was destroyed on the stern's descent to the ocean floor. The port side of the room was torn away with the aft tower and the starboard side of the room got folded back on the stern.
Community content is available under
CC-BY-SA
unless otherwise noted.