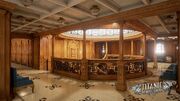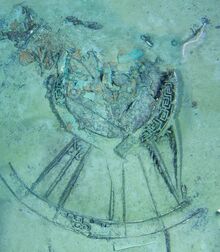 The Aft Grand Staircase was located further aft on A Deck, between the 3rd & 4th funnels and forward of the First Class Smoke Room. It was in the same style as the forward Grand Staircase with an illuminated dome at the centre, but it was smaller and only installed between A, B, and C Decks. A simple clock graced the main landing in contrast to the ornate "Honour and Glory Crowning Time" clock in the forward Staircase. One could access the Smoking Room immediately off the A-Deck level, and the Lounge via a long companionway with revolving doors on the port side.[104] On the Titanic there were two additional stateroom suites installed on either side of the A-Deck staircase, one of which was occupied by Thomas Andrews, the ship's builder.
The whole of the B-Deck foyer was used as a reception area for patrons of the Á la carte Restaurant and Café Parisien, specially designed in the Georgian style and painted white like the main Reception Room on D-Deck. There was a recess for coat storage and comfortable rattan seating was arranged in groups throughout the room. This was in contrast to the B-Deck foyer of Olympic, where there was no restaurant reception room and the foyer space was much smaller because of additional cabins and storage rooms.
It's dome cover is on the Boat Deck in the 2nd class promenade, It only spanned three decks (A Deck to C Deck), but it gave access to the First Class Smoke Room, First Class Promenade, and First Class Lounge (A Deck landing), the Café Parisien (B Deck landing) and First Class cabins (B and C Deck landings).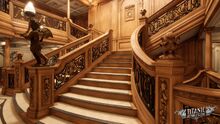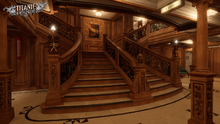 Community content is available under
CC-BY-SA
unless otherwise noted.