Alden Gates Caldwell (June 10th, 1911 - December 18th, 1992) was only ten months old when he survived the sinking of the RMS Titanic.[1][2]
He was born on June 10th, 1911 in Bangkok, Siam (now known as Thailand), to Albert Francis and Sylvia Mae Harbaugh Caldwell, who were Presbyterian missionaries[1] who taught at the Bangkok Christian College for Boys.[3] The couple decided to return to America, and on the journey home, they passed through Naples, Italy and learned that a steamship called the Titanic would soon go on its inaugural voyage from Southampton to New York City[1]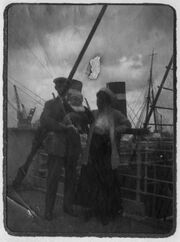 The family boarded the ship as Second Class passengers.[1] On April 14th, 1912; aboard the ship, Alden was fussy, and his parents handed him the keys to their trunk as a makeshift toy. They didn't realize that Alden lost the keys until the ship crashed into an iceberg that night and they were awakened by the crew. The Caldwells tried to get into their locked trunk to get Alden's coat out, but the keys were gone. The search for the keys proved fruitless, and the Caldwells had to wrap Alden in a blanket. They also had to leave their savings, $100 in American gold pieces, in the trunk. Because Sylvia was ill and couldn't hold Alden, Albert was encouraged by the crew to get aboard a lifeboat in order to hold the baby. Thus, Alden was credited with saving his father's life.[4]
The young "babby" Alden [5] and his parents escaped the Titanic in Lifeboat 13 together with Lawrence Beesley. He later told of a baby who crying incessantly in his lifeboat until someone noticed his feet were exposed. As soon as the feet were covered the crying ceased.
They were rescued by the RMS Carpathia. The family was one of the fortunate few families to survive the Titanic without any casualties.[6]
Alden Gates Caldwell graduated from the University of Illinois, class of 1934, and received a Masters Degree in chemical engineering. He never married and lived most of his life in Allentown, Pennsylvania. He was a chemical engineer and worked for the Leigh-Portland Cement Company for almost 33 years. He spent much time trying to prove his citizenship status in preparation for his retirement in order to receive social security benefits.
Alden retired to Largo, Florida in 1977 (after his father's death) and spent the remainder of his life travelling between his winter home in Florida and summer cottage in Stone Lake, Wisconsin. He loved to golf and fish.
Many remembered Alden as a reclusive and unfriendly man. When he died in 1992 some of his nearest neighbors did not even know his name and had never spoken to him. But others remember him as extremely kind and amiable. He freely spoke about what his parents told him about the sinking. He admitted that while the story of the Titanic held no interest for him (unlike his parents), he didn't mind speaking about it.
He apparently grew a long, unkempt white beard in his last years that was unmistakable. His memories were preserved on audio tape in 1986, and in 1987, and are in the archives of the Titanic International Society. It is the only known interview that Alden gave about his experiences on the Titanic.
According to both Frank Philip Aks and Alden Caldwell: At the time of Albert Caldwell's passing in 1977, survivor Frank Aks attended Albert's funeral. Both had met several years earlier. It was at the funeral that Mr. Aks met Alden for the first time. Until that time, Mr Aks believed that he had been the youngest survivor, his birthdate being June 7th, 1911. Alden jokingly told him after the funeral that he was born on June 10th, 1911 - thus making him at least the youngest of the two. Mr Aks eventually did meet the youngest survivor of the Titanic, Millvina Dean, at a reunion of survivors in 1988. Mr. Caldwell was invited to attend the affair, but chose not to.
He died on December 18th, 1992 in Largo, Florida.
Community content is available under
CC-BY-SA
unless otherwise noted.