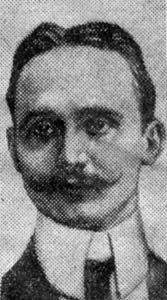 Alfred Fernand Omont was a First Class passenger of the Titanic. He survived the sinking.
He was born on 25 September 1882 and became a cotton dealer.
He went from Havre, France to Cherbourg to board the Titanic as a first class passenger (Ticket no. F.C. 12998, £25 14s 10d).
On the evening of 14 April Omont was playing auction bridge in the Café Parisien, with Pierre Maréchal, Paul Chevré and Lucien P. Smith when the collision took place:
Chevré, Marechal and Omont were all rescued in lifeboat 7, they described their rescue in an article that appeared in Le Matin and The Times. Lucian Smith however, died.
Alfred Omont died on 18 March 1948.
Community content is available under
CC-BY-SA
unless otherwise noted.