| | |
| --- | --- |
| | This article needs (more) accurate information. |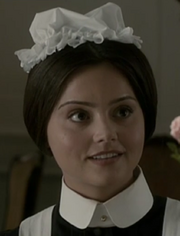 Annie Desmond
is a fictional character of the
2012 Miniseries Titanic
. She is a attractive stewardess who works on the
Titanic
. She is played by
Jenna-Louise Coleman
.
Episode 1
Edit
Annie Desmond is first seen when the Sandini's find her. She tells them where to go. Paolo Sandrini keeps staring at her, and his brother Mario has to pull him with.
Next, she goes to the Maid's and Valet's Saloon to get everyone taking their seats.
After dinner, she walks through several corridors, asking passengers for service. The Batleys accept it and she helps Muriel with taking off her necklace.
Episode 2
Edit
Before the ship leaves Southampton, Annie leaves a Second Class cabin with a pile of blankets. A passenger however bumps into her, throwing all blankets on the floor. Annie sighs and starts picking them up, when an officer tries to help her. Annie politely denies his help, but they do have a brief conversation.
Annie takes the blankets and wants to proceed when she is bumped again, this time by Paolo Sandrini who asks the way to crew berths. He keeps looking at Annie and his brother Mario has to pull him with. When preparing the dinner table, Annie notices Paolo's sleeves are too big. She fixes it with a knob.
That evening, Annie and Paolo meet at the very front of A Deck, at the starboard side. They both speak about the people they serve, and Annie mentions the incident of Mabel Watson's book. She also thinks of Paolo as a bad influence, especially because she isn't allowed in First Class. She wants to get back, but Paolo keeps following her. The romance between them starts to grow.
That Sunday, Annie helps Muriel Batley get dressed for a tea party with Lord Manton. She then leaves.
After the iceberg collision, Annie insists that Muriel puts on a lifejacket. John Batley gives her a lifejacket for her to wear, she has to be an example.
Later, Annie and Paolo are filling a lifeboat with women and children. Fourth Officer Boxhall forbids Paolo from allowing Second Class women into the lifeboats from A Deck, he thinks they have to board from the Boat Deck. Paolo almost clashes with Boxhall until First Officer Murdoch arrives and orders all women and children into the lifeboats
Episode 3
Edit
In the First Class Dining Saloon, Annie fixes Paolo Sandrini's sleeves. Paolo reveals to her his dream is to live in America. The Chief Steward wants to know why he is only half-dressed. Annie saves him. She finally says her name to Paolo.
That evening however, Paolo has to tidy every cupboard on the ship after an incident with the Chief Steward. When he finally returns to Annie, she already has to go. Paolo, desperate to spend some time with her, suggests to join her and 'work' her to her job along the Boat Deck.
After a walk on A Deck with Paolo in first class, Annie decides to get on. She says Paolo is a bad influence, making her be in first class when she shouldn't be. When she tries to reach the Boat Deck, Paolo says he wants to try to come with her. On the Boat Deck, Alice Cleaver is trying to walk Loraine Allison into submission. Annie proceeds to the Second Class entrance, where Seaman Royce tries to hold her back. Paolo has to intervene to let her pass.
Once in Second class, she goes from cabin to cabin and ask to turn down the beds. When she arrives at the Batleys, Muriel allows her to come in. She kneels down and turns down the bed.  Muriel says "you saw how she [Lady Manton] looked as we invited her to tea, she couldn't have been more surprised if we'd spat in her face." Annie gives a quite amused look and gets up. Then she helps Muriel with getting a necklace off, while the latter continues to talk with her husband. "Why in the name of God did you agree to attend an Anglican service? Of course Lord Manton, my pleasure Lord Manton." This makes Annie smile. She leaves the cabin and keeps eavesdropping the Batleys for another moment, now actuially laughing.
That Sunday Evening, Paolo is preparing his table for only 2 people. He explains: "The Wideners are giving a dinner party for the Captain in Gatti's restaurant. They've asked the English Lord and his family, the Astors, the [Duff-]Gordons and the actress. So there's only the Rushtons left." Annie reveals she would love to work in the First Class Dining Saloon, with the men in tuxedo's and the women in dresses with tiara's. This makes Paolo bring up envy, where Annie doesn't believe in. As a reply, Paolo again mentions his dream to live in America, where he believes men can easily climb the social ladder. Annie asks what about a woman, Paolo moves on to what a couple could achieve. That's the center of his dreams. Annie apparently fails to notice he was talking about coupling up with her.
Community content is available under
CC-BY-SA
unless otherwise noted.