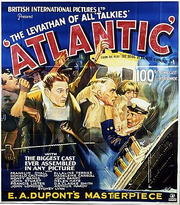 Atlantic (1929) is a British black-and-white film, directed and produced by Ewald Andre Dupont and starring Franklin Dyall and Madeleine Carrol. Originally, two versions were made, the English and German-language version of Atlantik were slot simultaneously. Subsequently the production of a French version (Atlantis) began in spring 1930 using different footage and partially an altered storyline. The fourth version was released as a silent film.
Atlantic is a drama film based on the RMS Titanic and set aboard a fictional ship, called the Atlantic. The main plotline revolves around a man who has a starboard affair with a fellow passenger, which is eventually discovered by his wife. The ship also has aboard an elderly couple, the Rools, who are on their anniversary cruise. Midway across the Atlantic Ocean, the Atlantic strikes an iceberg and is damaged to the point where it is sinking into the Atlantic. A shortage of lifeboats causes the crew to only allow woman and children in (though the captain allows a few men to take to the last remaining boats as the disaster reaches its zenith) and many couples are separated. Mrs. Rool refuses to leave her husband and after the boats are gone all the passengers gather on the deck to sing "Nearer My God To Thee" as the Atlantic sinks into the ocean. The final scenes depict a group of passengers saying the Lord's Prayer in a flooding lounge.
Community content is available under
CC-BY-SA
unless otherwise noted.