Bernard Fox (born Bernard Lawson; May 11th, 1927 - December 14th, 2016) is a retired British film and television actor from Wales. He portrayed Colonel Gracie in James Cameron's 1997 film, Titanic. He also portrayed lookout Frederick Fleet in the 1958 film, A Night to Remember.
Personal life
Edit
Fox, a fifth generation performer, was born Bernard Lawson in Port Talbot, Glamorgan, Wales, the son of Queenie (née Barrett) and Gerald Lawson, both of whom were stage actors. He had an older sister, Mavis, and has been married to his wife Jacqueline since 1961. They have two children. His uncle was veteran film and stage actor Wilfrid Lawson. He and his wife currently live in London, England.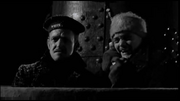 He started his film career at the age of 18 months and by the age of 14 he was an assistant manager of a theatre. After his naval services during World War II he resumed his career and soon was in 30 film credits from 1956 to 2004 include two films revolving around the sinking of RMS Titanic, separated by 39 years. Fox was in A Night to Remember (1958) (uncredited as Frederick Fleet). He delivered the line "Iceberg dead ahead, sir!" while playing the part of a sailor in the ship's crow's nest. He was also in the 1997 Film Titanic (as Colonel Archibald Gracie IV).
Other film roles ranged from supporting parts in broad comedies (Yellowbeard, Herbie Goes to Monte Carlo and The Private Eyes, playing a homicidal butler in the latter) to supplying the voice of the chairmouse in the Disney animated features The Rescuers and The Rescuers Down Under. He played the role of Winston Havelock, a retired Air Force pilot in the 1999 adventure film The Mummy. In 2004, Fox made his final appearance in Surge of Power: The Stuff of Heroes. He retired his acting career after this film. Bernard Fox died from heart failure in Van Nuys, California on December 14th, 2016.
Community content is available under
CC-BY-SA
unless otherwise noted.