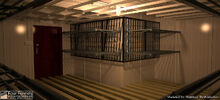 Titanic's Cargo Holds were used to storage baggage of passengers. There were six cargo holds, 3 forward & 3 aft. Each hold was loaded through a hatch.
Some of the cargo was quite unusual. These are some items found on the manifest:
A copy of the Rubaiyat, encrusted with jewels
Shelled walnuts (300 cases) for the first national bank of Chicago
Cargo Manifest Contents (some examples)
Click the link for the full cargo manifest: https://titanic.fandom.com/wiki/Contents_of_Titanic%27s_Cargo_Manifest
Click the link for all the provisions onboard: https://titanic.fandom.com/wiki/Provisions_for_the_Maiden_Voyage
4 cases of printers blankets,
34 cases of golf clubs,
5 cases of drug related sundries,
8 cases of orchids,
4 cases of pens,
7 cases of cotton,
12 cases of cotton laces,
4 bales of straw.
4 cases of tulle,
29 cases of cotton,
8 cases of bulbs,
28 bags of sticks,
10 boxes of melons,
61 cases of tulle,
Wreck
The cargo holds in the stern were torn apart by the violent implosions. The cargo holds in the bow seem to be relatively intact.
Community content is available under
CC-BY-SA
unless otherwise noted.