Catherine Murphy (October 6th, 1893 - September 24th, 1968) was a Third Class passenger of the Titanic. She survived the sinking.
She was the daughter of Michael Murphy (1841 - 1911), a farmer, and Maria Lyons (1845 - 1918), who were married in 1871.
One of twelve children born to her parents, with seven surviving into adulthood, Kate's known siblings were: John (b. 1874), Anna Maria (b. 1875), Patrick (b. 1880), Bridget (b. 1881), Rose Ellen (b. 1884) and Margaret Jane (b. 1886).
Kate and her family appear on the 1901 and 1911 Irish censuses living at House 20 and House 29, respectively, in Fostragh. By the time of the latter record she and her sister Maggie were still at home and without any stated profession. Her father would die later in 1911.
She and her sister made plans to emigrate to the USA where several of their siblings already lived there. Her sister Annie lived in Brooklyn and her brother Patrick is believed to have lived in Philadelphia. It was to the latter city that Kate and Maggie were headed to and they boarded the Titanic at Queenstown on April 11th, 1912 as third class passengers (joint ticket number 367230 which cost £15, 10s). Whilst aboard the sisters shared a cabin on E Deck with two other Longford girls, Katie Gilnagh and Kate Mullin, and they were also acquainted with others from Longford: the Kiernan brothers, (John and Phillip), who were also from Fostragh, and Thomas Joseph McCormack and James Farrell who were from neighbouring townlands. They possibly also associated with the McCoy siblings, also from Longford, whilst aboard.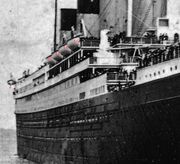 On the night of the sinking her sister later recalled crewmen blocking their way up to the upper decks and recalled seeing lifeboats leaving the ship only partially full. She also reported scuffles breaking out between some third class men and crewmen determined to keep the steerage in their place whilst she saw women and children deep in prayer nearby. Lore has it that it was the intervention of Longford man James Farrell, who threatened to punch a crewman if he didn't let the women past to the boats, who became the women's savior.
Kate, her sister and the two Kates from Longford were rescued in lifeboat 16, alongside an interloper, Thomas Joseph McCormack. Thomas Conlin (possibly a relative) threw his coat at the Murphy sisters in the boat. The Kiernan brothers, Thomas Conlin and James Farrell were lost in the sinking.
Upon landing in New York the Murphy sisters were greeted by their siblings.
Kate was married in Manhattan on July 17th, 1913 to Michael Guilfoyle (b. September 13th, 1889); a native of Co Clare, Ireland and who emigrated in 1907. Michael's brother Denis had been married to Kate's sister Anna the previous year and the two met through their respective siblings.
Kate and Michael made their home in Manhattan and had three children: Maria (b. 1914), Michael Joseph (1916 - 1981) and Rita (b. 1919). By the time of the 1940 census they were living in Brooklyn and they later lived in Swan Lake, Long Island, New York.
Kate was widowed on October 2nd, 1962 and she herself passed away on September 24th, 1968 aged 74. She and her husband are buried in St Peter's Cemetery in Sullivan, New York.
Community content is available under
CC-BY-SA
unless otherwise noted.