Lucy Noël Martha Leslie, Countess of Rothes (December 25th, 1878 – September 12th, 1956) was a British philanthropist and social leader, a heroine of the Titanic disaster, famous for taking the tiller of her lifeboat and later helping row the craft to the safety of the rescue ship Carpathia.
Early Life
[
]
Noël Dyer-Edwardes was born in Kensington, London. "Noëlle," as she spelled her forename of choice. She was the only child of Thomas and Clementina Dyer-Edwardes.
She married to Norman Leslie, 19th Earl of Rothes (pronounced "Roth-ez") on Primrose Day, 19 April 1900 at St Mary Abbots in Kensington, London.
Lord and Lady Rothes had two children:
• Malcolm George Dyer-Edwardes Leslie, later 20th Earl of Rothes) (1902–1975), married Beryl Violet Dugdale, daughter of Captain James Lionel Dugdale and Maud Violet Woodroffe, on July 17th, 1926 and had an issue.
• The Honourable John Wayland Leslie (1909–1991). He had an issue.
On the Titanic

[

]
Noëlle Rothes is best known as a survivor of the RMS Titanic. She embarked at Southampton with her parents, Thomas and Clementina Dyer-Edwardes, cousin Gladys Cherry, and maid Roberta Maioni. Her parents disembarked at Cherbourg, while the others continued, en route for New York and possibly Vancouver, British Columbia. While The Countess and her cousin were originally installed in the first-class basic cabin C-37, it is possible they upgraded to a more commodious suite, C-77 (in an interview with the American press, she has been quoted as having said she and her cousin stayed in stateroom B-77). Her table in the Dining Saloon was served by Ewart Sydenham Burr, who bragged about that in a letter he sent to his wife, posting it in Queenstown.
The Countess, her cousin and maid were rescued in lifeboat 8. Thomas William Jones, the able seaman in charge of their lifeboat, later said Rothes "had a lot to say, so I put her to steering the boat," a compliment on her leadership abilities. She took the tiller, asking her cousin to assist her until she went to sit next to and comfort a young Spanish newlywed, María de Soto y Peñasco, whose husband had remained behind on the sinking liner. There she remained for the duration of the night, rowing all the while and helping to boost the morale of other women until their lifeboat was picked up by the RMS Carpathia; once aboard Carpathia, she devoted herself to the care of the steerage women and children from Titanic.[1] As a token of his esteem, Jones later presented her with the brass number plate from their lifeboat.
Later Life and Death
[
]
The Countess wrote to Jones every Christmas, and the two maintained correspondence until her death. The number plate is now in the possession of the Countess' grandson Alastair Leslie of Leslie, Fife.
After her husband died in March 1927, Lady Rothes remarried on December 22nd, 1927; to Colonel Claud Macfie, DSO, in London. The Countess retained her title. The couple had no children. She died in Hove, Sussex, on September 12th, 1956 having suffered for some time from heart disease. 
Portrayals
[
]
"

I find her fascinating. She looks just the way I've always wanted to. Worldly and mysterious.

"

—Madeleine Astor talking about the Countess of Rothes
In S.O.S. Titanic, actress Kate Howard portrayed the Countess of Rothes. In this film, she is depicted as a very beautiful, graceful, stylish, mysterious and quiet woman. But in the end it was revealed that she is actually a very kind woman.
She first appeared observing the passengers when the Titanic was docked in Queenstown. She was then accidentally hit by Daniel Marvin, who was filming a honeymoon video with his wife, Mary. Daniel apologized to the Countess, she smiled and answered no harm done.
That night, she went out to dinner with her cousin, Gladys Cherry. Before entering the First Class Dining Saloon, she looked in the mirror while put on her net hat. John Jacob Astor comments to Madeleine, Margaret Brown, and Emma Bucknell that the Countess had dines late. Mrs. Brown claimed that she was a Countess, so she could dine any time. Meanwhile, Madeleine even praised her, because she looked so fascinating.
After the dinner, the Countess of Rothes watched Mrs. Brown danced with a man in Café Parisien.
The next day, she did a facial at the Turkish Bath Madeleine Astor, watching her secretly, looked at her beauty before turning her gaze when the Countess looked at her.
Meanwhile, young Milton Long and Jack Thayer also peeked at the Countess from the door, until finally they was told to go by Turkish Bath Stewardess Maude Slocombe.
The Countess of Rothes attends the sunday service at Cafè Parisien (not the First Class Dining Saloon as it happened in real life).
During the dinner, she showed concern for Irene Harris, who had just fallen from the Grand Staircase, as told by Dr. William O'Loughlin.
The Countess spent the rest of the evening in Café Parisien, before returning to her cabin. When the Titanic hit an iceberg, she was awakened by the vibrations, but she went back to sleep.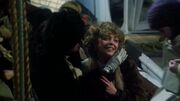 During the evacuation process, she was seen fastening her life belt, near the Grand Staircase, and was secretly observed by Margaret Brown.
The Countess of Rothes got into one of the lifeboats, finding the young couple that she had previously met, Daniel and Mary Marvin. Mary cried because she didn't want to be separated from her husband, but Daniel said that he would be alright. On the boat, the Countess comforted Mary.
The Countess of Rothes is seen back on the Carpathia, looking after the Titanic's orphans Michel and Edmond Navratil, who were playing Edith Russell's Lucky Pig.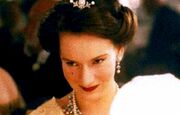 "

Excuse me, why have the engines stopped? I felt a shudder?

"

—Countess of Rothes to a Steward
In the 1997 film, she was portrayed by actress Rochelle Rose. Much like as her portrayal in S.O.S. Titanic, in this film Countess of Rothes is depicted as a beautiful woman, graceful and kind. But she secretly harbored feelings of dislike for people of lower class, such as Margaret Brown and Jack Dawson.
She first appeared during a dinner on April 12, where she was seen talking with Lady Duff-Gordon.
The next day, she was enjoying afternoon tea in the Reception Room with Ruth DeWitt Bukater and Gladys Cherry, then she saw the vulgar Brown woman (Margaret Brown), and they hurried over to finish drinking before she joined them. But Mrs. Brown came, and they couldn't help accepting Mrs. Brown to join them. Countess, Ruth and Mrs. Brown is walking down the A Deck and finds Rose hanging out with a third class passenger, Jack Dawson. Rose tells about Jack's heroic experience when he saved Rose when she almost fell from the ship, Mrs. Brown and the Countess looked impressed, but Ruth wasn't.
Before the dinner, she walked over to Caledon Hockley and Ruth DeWitt Bukater on the Grand Staircase, before going downstairs to the First Class Reception Room.
Rose DeWitt Bukater then introduced the Countess of Rothes to Jack, where she was seen talking to Captain Smith.
Jack Dawson kissed her hand. She showed a little disgust to Jack (which Rose noticed), but she still smiled at Jack. During dinner, the Countess of Rothes listened carefully to Jack's speech, who was sitting next to her.
She attended Sunday service the following day, where she sat next to Cal. She then also enjoyed afternoon tea in the Lounge with Ruth, Rose and Lady Duff-Gordon.
When the Titanic hit an iceberg, she awoke and asked a steward why have the engine stopped and told him that she felt a shudder. The steward said that it seems the propeller blade had problems, and offered what he could bring to her. The Countess notices Thomas Andrews carrying the blueprints and looks serious, but the she ignores it and refused the steward offer before returning to her cabin.
The Countess doesn't reappear for the rest of the film but she is seen from a distance holding the tillers of Lifeboat 8 during the sinking.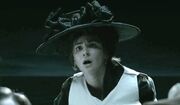 "

We haven't met yet, I'm Lady Rothes.

"

—Countess of Rothes introduces herself to Eleanor Widener
In the 2012 Miniseries, Countess of Rothes was portrayed by actress Pandora Colin. She only appears in Episode 1 and 4.
In Episode 1, she was  mentioned by her maid, Roberta Maioni, to Mabel Watson at the beginning. She appeared physically when she was in lifeboat 4, watching Eleanor Widener, who was depressed, knowing that her son would not survive.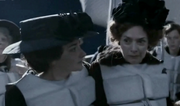 The Countess of Rothes then introduced herself to Eleanor as "Lady Rothes", and entertained her while on the boat.
In episode 4, she protests to Seaman Holmes, who refuses to return to pick up the survivors, but Holmes harshly tells the Countess to pipe down. Hearing that, her maid, Roberta Maioni,  interrupted Holmes by saying: "How dare you! Don't you know you speaking to a Countess?". Holmes did not care about whoever he spoke to be it a Countess or even a King.
Margaret Brown and Eleanor Widener insisted to return, and took over the boat, while the Countess held onto the tillers.
When they returned, the Countess saw two passengers floating in the water, the two passengers being John Batley and his wife, Muriel. Muriel is dead, John doesn't want to leave her. The countess told John that she thought his wife would understand. John then agreed to be pulled into the boat.
Boat 4 then joined with the other boats, the Countess noticed a light from the horizon and asked the other passengers if they saw it too. 2nd Officer Lightoller then discovered that it must be RMS Carpathia. The Countess and the other passengers then were waiting for the rescue.
The recent bestselling e-book Lifeboat No. 8, by author Elizabeth Kaye, focused on the Countess' experience of the Titanic's sinking.
↑ Lehrer, Stanley; McMillan, Beverly (1998). Titanic: fortune & fate: catalogue from the Mariners' Museum Exhibition. New York: Simon & Schuster. p. 96. ISBN 0-684-85710-3.