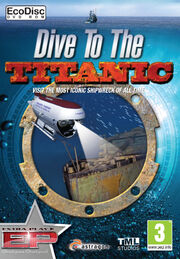 Dive to the Titanic
is a simulator game where you dive down in the mini-submarine, "Nephron" to the
wreck of the RMS Titanic
. It was released on December 14th, 2010.
Visit the most iconic shipwreck of all time as you descend deep into the ocean abyss to explore the remains of the
Titanic
. The proud vessel, sent to the depths of the ocean after a catastrophic iceberg collision that still captures imaginations today. Using the mini-submarine, "Nephron" travel 4000 metres to the sea bed, catching your first glimpse of this ocean great liner.
Using your freely controllable robot camera, explore deep into what was the most luxurious vessel in the world, as echoes of the Titanic's date with destiny accompany you as you explore every room and staircase. It takes real skill to operate the robot so be sure to avoid collisions and damage!
Your once-in-a-lifetime visit to the
Titanic
forms part of a gripping adventure story as you shoot rare photos and raise artefacts from her watery tomb. Every artefact has a story to tell - heroism and heartbreak, she saw it all that fateful night in 1912.
Invest the income received from your dives by purchasing increasingly more sophisticated equipment that permits you to venture further and further into the Titanic. However, beware the denizens of the deep as you may not be the only visitor to the final resting place of this mighty vessel!
Also featuring a "free roam" mode, three levels of difficulty and a wealth of fascinating background information on the most famous final voyage in the world, the Titanic will hold you spellbound in her grip.
Community content is available under
CC-BY-SA
unless otherwise noted.