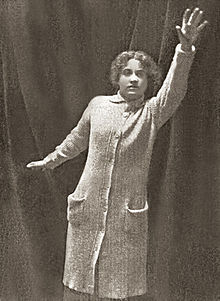 Dorothy Winifred Gibson (May 17th, 1889 – February 17th, 1946) was a pioneering American silent film actress, artist's model and singer active in the early 20th century. She is best remembered as a survivor of the sinking of the Titanic and for starring in the first motion picture based on the disaster.
After a six-week vacation in Italy with her mother, Gibson was returning on the Titanic to make a new series of pictures for Eclair at Fort Lee. The women had been playing bridge with friends in the lounge on the night of the ship's fatal collision with the iceberg. With two of their game partners (including William Thompson Sloper) they escaped in Lifeboat 7, the first lifeboat launched after she had a fight with one of the crew members and was lifted onto the boat against her will.
After arriving in New York on the rescue ship Carpathia, Dorothy was persuaded by her manager to appear in a film based on the sinking. She not only starred in the one-reel drama but also wrote the scenario. She even appeared in the same clothing she had worn aboard the Titanic that night—a white silk evening dress topped with a cardigan and polo coat.
Popular culture
Edit
| | |
| --- | --- |
| | This article needs (more) accurate information. |
Dorothy Gibson was portrayed in Saved from the Titanic by herself.
She is also portrayed in the 2012 Miniseries Titanic.
2012 Miniseries Episode 1
Edit
Dorothy and her mother join a group of passengers, inluding Captain Smith and Lord Manton, for the first dinner. That night, she's dancing with Jack Thayer until his mother takes him away. She's left alone for a moment until Second Officer Lightoller takes over.
Community content is available under
CC-BY-SA
unless otherwise noted.