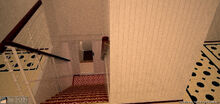 The E Deck is the 6th deck from the bottom, lying 6-7 meters above the waterline.
Many crews cabins, mainly concentrated in the Scotland Road, are positioned a long road without any watertight doors at the port side of the ship. It started flooding at around 12:30 A.M., being one of the earlier decks to flood. It's wider than the usual gangways, is uninterrupted and let much water through during the sinking, causing Titanic to list 2 degrees to the port side after 1:00 A.M.
Most of the Watertight Bulkheads ended at this deck. A few even reached D Deck.
Scotland Road is the nickname for the corridor that ran the length of the ship and connected the 3rd class sections located in the bow and stern areas of the ship.
What makes the 3rd class a little different from 1st or 2nd class is that they are intermingled with the crew. As 3rd class passengers went to breakfast, they might see stewards and cooks going to and from their rooms to the lavatories or to work. Carts of provisions were moved down Scotland Road to various spaces around the ship. NO 1st class passenger ever saw a crewman pushing a hand truck loaded with cases of stewed tomatoes down the corridor!
Notable places
Edit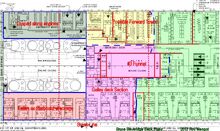 Community content is available under
CC-BY-SA
unless otherwise noted.