Edith Corse Evans (September 21st, 1875 - April 15th, 1912) was an American First Class passenger on the RMS Titanic who died in the sinking on April 15, 1912. She was one of four women in the First Class to have perished, the others being Bess Allison, Ida Straus and Ann Isham.
Biography
[
]
Early Life
[
]
Edith Evans was born in Philadelphia, Pennsylvania to a wealthy family. She was the second daughter of lawyer Cadwalader Evans and his wife, woman's rights activist Angeline Burr Corse.[1] She had a sister, Lena Cadwalader Evans, who was a renowned painter.
A long-time resident of New York, unmarried Edith was a member of The Colonial Dames of America and a descendant of Andrew Hamilton. She had great interest in genealogical studies.
On the Titanic

[

]
On the evening of April 10th, 1912 Edith Evans boarded the RMS Titanic at Cherbourg to return home from a family funeral in England.
When the lifeboats were first lowered, Edith Evans and Caroline Brown missed the opportunity to get to one in time. Another was prepared to set off at 2:09 am, which Evans and Brown reached. It has commonly been reported that there was not enough room for both of them in the boat so Edith persuaded Caroline to get in, even though Caroline repeatedly refused. However, Walter Lord stated in his 1955 book A Night to Remember that the boat was hurriedly lowered before Evans could get in. Additionally Collapsible D, the last functioning lifeboat, was not filled to capacity when lowered and was filled with about 30 people in a boat designed to accommodate 47. It is not known whether or not Evans intentionally stepped aside before the boat was lowered.
Death
[
]
Edith Evans went down with the ship. She was last seen running across deck to board collapsible A, presumably because collapsible B was overturned. Witnesses say she was able to climb into collapsible A before falling out and dying of hypothermia. She was never identified among the recovered bodies.[2] On April 22nd, 1912; a memorial service was held for her at Grace Church in New York City, and a plaque was dedicated in her honor.[3][4]
Portrayals
[
]
Main article: Duchess of Canterville
In the 1943 film, The Duchess of Canterville, who befriends Sigrid, seems to be based on Edith Evans, as she tells Sigrid she always feared sailing on a ship because she felt something bad was going to happen to her. This is reminiscent of Edith Evans' words that a fortune teller in London warned her to be wary of water. Just like Edith Evans, the Duchess does not board a lifeboat and perishes in the sinking.
"

I always had a strong feeling that I should not go on a ship... that something would happen to me.

"
The Duchess of Canterville is last seen on the boat deck late into the sinking, asking an officer where the lifeboats are, only to hear back they have all been launched.
In the Kraft Television Theater A Night to Remember, Edith Evans appeared in a minor role, portrayed by an uncredited actress.
She appeared during the loading of Collapsible D, where she and Caroline Brown were assisted by Colonel Archibald Gracie and James Clinch Smith to reach the last boat.
Second Officer Lightoller told them that the boat can only accommodate one more lady. Edith Evans then told Mrs. Brown to get into the boat immediately, said that she has children at home. Mrs. Brown refused repeatedly and asked Edith Evans how about her, but finally relented and got into the boat.
Edith Evans then said goodbye to Mrs. Brown and remained on the ship, worrying Chief Officer Wilde because there are no more lifeboats available to her.
"

You go first, you've children waiting at home, please...

"

—Edith Evans to Caroline Brown
In A Night to Remember, Edith Evans was portayed by actress Olwen Brookes. She is depicted as a middle-aged woman in her 50s, not a single woman in her 30s.
She appeared during the loading of Collapsible D, where she and Caroline Brown reached the last boat, but was immediately stopped by sixth Officer James Moody, who said there was only one more room on the boat.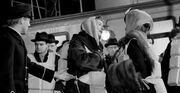 "

Still here, Miss Evans? We'll get you off in the next boat.

"

—Archibald Gracie IV to Edith Evans
Edith Evans then asked Mrs. Brown to go first, because she has children waiting at home. Mrs. Brown, however, hesitated and refused many times, but Edith Evans asked her to.
Mrs. Brown then relented and was helped into the boat by James Moody, and turned towards Evans, worried about her fate.
Edith Evans then stepped back as the boat was launched, and was approached by Colonel Archibald Gracie, who offered to escort her to the next boat.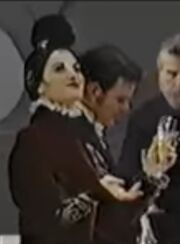 Mindy Cooper played Edith Corse Evans in the 1997 production of Broawday.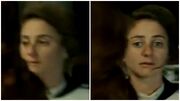 In the 1997 film, Edith Evans only made a brief cameo during the sinking.
She appeared when Jack Dawson and Rose DeWitt Bukater were looking for the boats, where they approached Colonel Archibald Gracie who was escorting Edith Evans and Caroline Brown.

Rose and Jack asked them if there were any boats left on the starboard side, Gracie said no but there were still a couple boats in the far forward.
Gracie then offers Rose to join him to go together, but Rose and Jack immediately leave.
References
[
]
External links
[
]