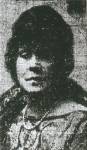 Elizabeth Jane Anne Rothschild was a First Class passenger of the Titanic. She survived the sinking.
She was born on February 10th, 1858 in Watkins Glen, Schuyler County, New York, the fifth daughter of James William Barrett (an English born innkeeper) and his Irish born second wife Mary.
Elizabeth Barrett (a devout catholic), was married to the New York clothing manufacturer Martin Rothschild (a Jew) by Father Gallagher at Holy Name Church, New York City, on 2nd June 1895. Martin Rothschild was the uncle of writer and poet Dorothy Rothschild, later Dorothy Parker (1893-1967).
The couple, who were childless, lived at 753 West End Avenue, New York but travelled extensively.
They boarded the Titanic at Cherbourg as first class passengers (Ticket No. PC 17603, price £59 8s).
Mrs Rothschild was rescued in lifeboat 6 along with her Pomeranian (one of three dogs that were saved from the Titanic). The dog had apparently gone undetected during the loading of the lifeboats, and during the night as no survivors remembered the canine until the morning of rescue. When the lifeboat came alongside the Carpathia, crew members at first refused to take Mrs Rothschild's dog. She protested that she would not leave the lifeboat until her dog was placed safely in her lap. She held the dog and was hoisted aboard the Carpathia. It was not highly publicized that Mrs Rothschild's dog had been rescued - largely due to the fact that her husband had gone down with the Titanic. The fate of the dog remains a mystery, descendants of Mrs Rothschild claim that it was killed in New York during a fight with another dog, while Argetsinger and Ellison (1995) record that the dog was killed under the wheels of a carriage amidst the confusion at the dock after arrival in New York.
Community content is available under
CC-BY-SA
unless otherwise noted.