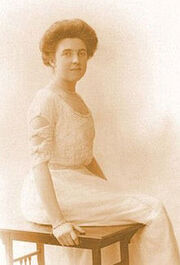 Elsie Edith Bowerman (December 18th, 1889 - October 18th, 1973) was a British lawyer, suffragette, passenger of the RMS Titanic, and a survivor of the sinking.
Early life
Edit
Elsie Edith Bowerman was born in Tunbridge Wells, Kent, the daughter of William Bowerman and his wife Edith Martha Barber. Her father died when she was 5 years old. She went to Wycombe Abbey at the age of 11 in 1901 where she came under the influence of Frances Dove, whose biography she wrote. She left in 1907 spending time in Paris before going to Girton College Cambridge. She and her mother became active members of Emmeline Pankhurst's Women's Social and Political Union (WSPU) which campaigned vigorously for the extension of the franchise.
Aboard the TitanicEdit
On 10 April 1912 Elsie Bowerman and her mother Edith boarded RMS Titanic at Southampton as first class passengers cabin 33 on deck E, for a trip to America and Canada to see her father's relations in North America. They were both rescued on lifeboat 6.
Later life
Edit
After the Titanic disaster, they reached America and carried on with their plans to visit British Columbia, Klondyke and Alaska.
During World War I Bowerman worked with a Scottish women's hospital unit in Romania and in March 1917 had had to retreat to St Petersburgwhere she witnessed the Russian Revolution at first hand. Back in England in 1917 she carried on with her suffragist work and supported the Pankhursts in organizing mass meetings to encourage men to join the Forces and women to volunteer for war work.
After the war, Bowerman studied law and was admitted to the Bar in 1924. She was the first woman barrister at the Old Bailey and practiced until 1938. During World War II she worked for two years with Women's Voluntary Services, and after a time at the Ministry of Information spent three years with the Overseas Services of the BBC. In 1947 she went to the United States to help set up the United Nations Commission on the Status of Women. On her return she lived near her mother at St Leonards-on-Sea, and then moved to a country house near Hailsham where she died after a stroke.
Community content is available under
CC-BY-SA
unless otherwise noted.