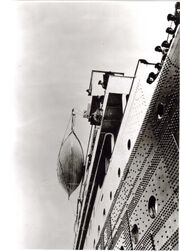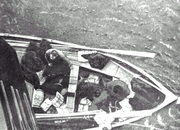 Titanic Lifeboat No. 1 adalah sekoci kelima yang diluncurkan dari RMS Titanic sekitar pukul 01:05, dan yang keempat diluncurkan dari sisi kanan. Sekoci memiliki kapasitas 40, tetapi diluncurkan dengan hanya dua belas di atas kapal, jumlah penumpang paling sedikit untuk melarikan diri di perahu malam itu. ☃☃ Sebagian besar penghuni Boat 1 adalah pria, meskipun Kapten Smith menyerukan "wanita dan anak-anak terlebih dahulu." Petugas Pertama Murdoch, yang bertanggung jawab atas upaya evakuasi di sisi kanan kapal, memungkinkan sejumlah penumpang pria Kelas Satu naik ke sekoci untuk menenangkan para wanita dan menggerakkan prosesnya. Murdoch mengizinkan lima penumpang dan tujuh awak untuk naik ke Kapal 1. Para penumpang termasuk Sir Cosmo Duff-Gordon; istrinya, Lucy, Nyonya Duff Gordon; sekretarisnya, Mabel Francatelli; Abraham Salomon dan CE Henry Stengel. Para kru adalah: Lookout George Symons , yang Murdoch ditugaskan untuk menangani kerajinan, Charles Hendrickson, Samuel Collins, George Taylor, Frederick Sheath, Robert Pusey dan Albert Horswill.
Boat 1 did not clear the side of the ship for some time, perhaps not until about 1:15 A.M., following to a mishap encountered on its descent from the boat deck. A protuberance called a spar, at about the B Deck level, caught on the boat's gunwales, arresting the lowering process. It was not until the crew used a wire cutter to chop the obstacle away that the boat was freed and able to reach the sea.
Boat No. 1 and its occupants were picked up by the RMS Carpathia sometime shortly after 4:10 am, being the second Titanic lifeboat to reach the rescue ship. The boat's occupants were subsequently photographed as a group on the Carpathia. The boat was hoisted aboard the Carpathia along with other Titanic lifeboats and brought to New York. One of the davits from which Boat 1 was lowered remains upright today on Titanic's wreck in relatively good condition.
Due to rumors that Sir Cosmo had bribed the crew in his boat not to rescue people left in the water after the ship went down, some New York press reports dubbed Boat 1 the "Money Boat".[1][2] The appearance of Cosmo and Lucy Duff Gordon as witnesses at the British investigation into the disaster drew the largest crowds seen during the inquiry. The Duff Gordons were the only passengers to testify at the Titanic Inquiry.
According to the British Inquiry testimony of crew member Charles Hendrickson, he had proposed returning to rescue survivors after the Titanic sank, but "the women objected." Consequently, he claimed, the boat did not go back to pick up swimmers, although he admitted there was "plenty of room for another dozen".[3] It was also claimed during the course of the inquiry by lookout George Symons and others that it was Lucy Duff Gordon who expressed concern that the lifeboat might be swamped if it returned. She denied the charge and her testimony was supported by other crewmembers who revealed they had not heard her objection nor any proposal to turn back.
According to the testimony of Robert Pusey, a conversation concerning money occurred in the boat at about 3 a.m., nearly an hour after the Titanic sank. He claimed the discussion was prompted by a private comment Lucy Duff Gordon made to Mabel Francatelli: "There is your beautiful nightdress gone."[4] Overhearing the exchange, Pusey replied, "Never mind, you have saved your lives," afterwards complaining that he and the other sailors had not only lost everything but their pay had stopped from the time the ship went down. Out of sympathy but also in hopes of avoiding an argument, Cosmo Duff Gordon responded, "I will give you a fiver each to start a new kit."[5] On April 16th, the day after their rescue by the Carpathia, each Boat 1 crew member received a £5 cheque from Cosmo Duff Gordon.[6]
The British inquiry issued a report after reviewing the evidence of their probe, which included sworn testimony from every member of Boat 1's crew as well as an affidavit from Mabel Francatelli.[7] The report stated:
The very gross charge against Sir Cosmo Duff Gordon that, having got into No. 1 boat, he bribed the men in it to row away from the drowning people, is unfounded.
The report, however, admonished the occupants of Boat 1 for not making a concerted effort to rescue survivors from the water.[8]
George Symons (in charge)
Lifeboat No. 1 was one of two small "emergency" wooden cutters that were located one on each side of the Titanic; No. 1 was on the starboard side. Although they performed double-duty as lifeboats, their primary purpose was to serve the crew in the event of an emergency, such as a man overboard, and were therefore already swung out from the rail to be launched quickly. The standard clinker-built lifeboats on the ship had a capacity of 64, while the smaller emergency boats' capacity totaled 40.[9]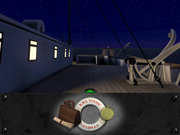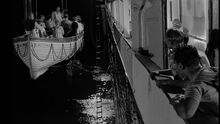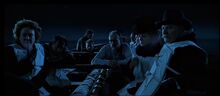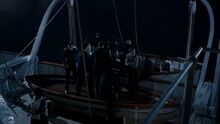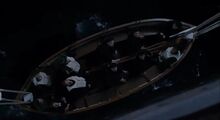 In the game Titanic: Adventure Out of Time, Boat 1 is not mentioned, but it can be seen swung out and ready until the second sinking cutscene. It's gone at 1:30 AM. In a deleted scene in James Cameron 1997 blockbuster Titanic, Sir Cosmo Duff-Gordon and Lady Duff-Gordon are shown seated in Lifeboat No. 1 when Fireman Hendrickson recommends rescuing people in the water. Sir Cosmo looks at his wife, who appears distressed, before replying, "It's out of the question."
In the 2012 television mini-series Titanic, Lady Duff Gordon is shown standing in Boat 1, urging her secretary to get in with her, saying, "Don't be a fool Francatelli, this boat isn't sinking, that one is," pointing to the ship. She is later shown telling Officer Lowe to allow some men to board, including her husband, then ordering him to lower the boat. These scenes represent a grossly inaccurate, and even inflammatory, portrayal of her actions in the lifeboat that night, as well as an unfair depiction of Lowe. Sir Cosmo then bribes the crew to not go back, which is also inflammatory unfair portrayal of the events in the lifeboat after the Titanic sank. Also the number of occupations in the lifeboat is wrong, there are 11 in the boat compared to 12.
The loading and launching of Boat 1, and the occupants' decision not to return to the wreck site after the Titanic's sinking, was also portrayed in the 1958 film A Night to Remember, based on Walter Lord's namesake book.
↑ Ward, Greg (4 December 2012). "Titanic: the curious story of the 'Money Boat'". MSN News. http://news.uk.msn.com/uk/titanic-the-curious-story-of-the-money-boat

. Retrieved 24 February 2014

.

 

↑ "Sir Cosmo Duff Gordon". The Biography Channel. A+E Networks. http://www.biography.com/people/cosmo-duff-gordon-283836

. Retrieved 24 February 2014

.

 

↑ "Testimony of Charles Hendrickson, cont.". British Wreck Commissioner's Inquiry : Day 5. Titanic Inquiry Project. http://www.titanicinquiry.org/BOTInq/BOTInq05Hendrickson02.php

. Retrieved 2 February 2014

.

 

. Questions: 5019, 5029—5034
↑ Lord, Walter, A Night to Remember (1977), 148.
↑ "Testimony of Robert W. Pusey". British Wreck Commissioner's Inquiry : Day 11. Titanic Inquiry Project. http://www.titanicinquiry.org/BOTInq/BOTInq11Pusey01.php

. Retrieved 4 March 2014

.

 

. Questions: 13119, 13121
↑ Butler, Daniel Allen (1998). Unsinkable: The Full Story of RMS Titanic. Mechanicsburg, PA: Stackpole Books. p. 144. ISBN 978-0-8117-1814-1.

 

↑ "Firsthand account of Titanic disaster published for the first time". Mail Online. Associated Newspapers Ltd. 1 October 2010. http://www.dailymail.co.uk/news/article-1316804/Firsthand-account-Titanic-disaster-published-time.html

. Retrieved 3 February 2014

.

 

↑ "Conduct of Sir Cosmo Duff Gordon and Mr Ismay". British Wreck Commissioner's Inquiry Report : Account of the Saving and Rescue of those who Survived. Titanic Inquiry Project. http://www.titanicinquiry.org/BOTInq/BOTReport/BOTRepConduct.php

. Retrieved 3 February 2014

.

 

↑ Hutchings, David F.; Kerbrech, Richard de (2011). RMS Titanic 1909-12 (Olympic Class) : owners' workshop manual. Minneapolis, MN: Zenith Press. p. 112. ISBN 076034079X.

 
Community content is available under
CC-BY-SA
unless otherwise noted.