Fang Lang (ca. 1894 - 1985) was a Chinese passenger of the Titanic from Hong Kong. He survived the sinking.
Fang was born around 1894 in China. He travelling to New York City with eight colleagues from the Donaldson Line's Annetta. He was a seaman, more specifically, a fireman.
While it has been alleged that some or all were stowaways on the Titanic; in fact, all eight boarded the Titanic at Southampton as fare-paying third-class passengers. Lee Bing, Chang Chip, Choong Foo, Ling Hee, Ali Lam, Len Lam, Fang Lang and Lee Ling travelled together on the same ticket (ticket number 1601, £56 9s 11d).
Fang Lang was pulled out from the freezing water when 5th Officer Lowe took Lifeboat 14 came back to pick up survivors. Fang Lang was one of the only few people to be survived from the freezing water.
Six, out of eight Chinese passengers was rescued. Fang was one among them.
Once the six survivors arrived in New York, they were detained, placed under guard by U.S. Immigration officers, and immediately escorted to the Annetta, which sailed the next day for Cuba.
They worked together in Britain until 1920, when the country suffered from a post-war recession and anti-immigrant feelings were running high.
Fang Lang later married and has a son, Tom Fong, and became a citizen of US, the country that once rejected him after sailing between Britain and Hong Kong for years.
He never talked about the Titanic to his family and is believed to have died in 1985 at the age of 90.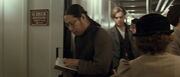 Fang Lang appears as a possible cameo in Titanic (1997), portrayed by Van Ling. He appears in some third-class scenes. During the sinking, Fang Lang, Jack, Rose, Fabrizio, Tommy and some third-class passengers broke one of the gates so they could go to the upper deck.

He still remains on the ship until the end, but survived because he climbed to a floating deck chair until 5th Officer Lowe pulled him into Lifeboat 14.
To be added
Community content is available under
CC-BY-SA
unless otherwise noted.