The Titanic had a total of over 371 First Class Staterooms, 41 of which could be used as 2nd class staterooms.
Accommodation
[
]
The Titanic and her sister Olympic offered the finest and most luxurious First-Class accommodations to be found on any contemporary ocean liner. The cheapest First-Class fare could be had for £23 (equivalent to £2,200 in 2018), without meals. A suite could range in price from £400 to £870 (£84,600 in 2018) for a "Deluxe" Parlour Suite at the height of the travelling season.
Decor and Range
[
]
The "special staterooms" on B and C-Decks were richly appointed in 11 different period styles, including Adam, Louis XIV, XV, and XVI, French Empire, Georgian, Jacobean and Italian Renaissance. Some styles, like Adam or Louis XVI, had different variations used in certain staterooms which incorporated elements from other periods, bringing the total of different designs to 19 including the 11 base styles. In addition, there were two custom Harland and Wolff designs known as "Bedroom A" and "Bedroom B" which were used in a total of 43 bedrooms between B and C Decks. These were period-inspired but modernized and considered equal in quality to the 11 stringent period styles. Bedroom A was the plainer of the two, featuring fielded wood panels painted white, resting on a 3-foot high carved oak dado, and furnished with a brass or wooden bedstead. Bedroom B was known as the "French cabin" because it was Louis XV-inspired, featuring varnished oak panelling and Cabriolet furniture.
In the "special staterooms", there was a wide range of finely carved panelling, veneers, and marquetry made from exotic imported woods like Mahogany, Sycamore, Walnut, Oak and Satinwood. Such was the attention to historic detail that every piece of furniture, light fixture, upholstery, and woodwork was recreated with an obsessive care for accuracy by designers and master craftsmen at Harland and Wolff. There were a small number of outside contractors hired to fit out select rooms or provide furnishings. The Dutch firm of H.P. Mutters & Zoon, for instance, fitted out twelve of the "special staterooms" according to the chosen period styles, supplying everything from the panelling and doors down to the sofa pillows, down bed quilts, and wastepaper baskets.
First-Class accommodation occupied almost the entirety of B and C Decks, but also large sections forward on A, D and E-Decks; a handful of First-Class cabins were located on the Boat Deck between the forward Grand Staircase and Officer's Quarters. On E-Deck staterooms and cabins were interchangeable between First and Second-Class, meaning sections could be prioritized for either one of the classes in the event of overbooking or high demand. Only the starboard side of E-Deck belonged to First/Second-Class, the whole of the Port side contained Third-Class and Crew cabins. The First-Class corridors were in general very spartan in appearance, but the B and C Deck passageways which accessed the very finest staterooms were more impressive. These featured white-painted 'Venesta' panels (a durable type of plywood), pilasters, archways over the stateroom entrances, and a decorative frieze supported by gilt brackets running along the top of the walls which concealed the ventilation ducts and electrical wiring underneath. There were no handrails, no carpet runners, and lighting was provided by ormolu and cut-glass ceiling fixtures. On B Deck the two parallel corridors were enclosed by swinging baize-upholstered doors with louver panels, which muffled the sound coming from the stairwells and busy public rooms.
The space which had been given over to an encircling B-Deck promenade on the Olympic was converted to additional large staterooms on Titanic, the finest on board. Many of these staterooms had private entrances, separate servants' quarters, adjoining doors, and en-suite bathrooms; they could be booked in groups to accommodate families and servants. In all there were almost 330 First-Class rooms, 100 of which were single-berth.
The type of First-Class stateroom that predominated was a single or double berth stateroom which contained a dressing table, horsehair sofa, wardrobe, and marble-topped washstand with basin. Double berth cabins had "tipped" washbasins on shelves that could be folded back into the cabinet to save room. Many also had additional bunks suspended over the main bed that could be folded against the wall. Staterooms increased in size thereafter with double beds, built-in wardrobes, and comfortable seating areas. Single berth state rooms, like those on A-Deck, were decorated more modestly than the lavish period suites on B and C-Decks. Above most beds was an electrical outlet with a call button that could summon a steward, a reading lamp and a wire-mesh basket for storing small items. Although the Titanic was centrally heated, all First-Class cabins contained electric heaters to provide additional warmth and passengers could get electric bed warmers on request to a steward.
Facilities
[
]
As was standard at the time, the bulk of First-Class bathroom facilities were shared. Communal lavatories with illuminated signage could be found along the passageways divided by gender. A passenger could take a bath by notifying a steward, who would draw the bath based on availability. Because of the need to conserve limited fresh water supplies, baths were supplied with sea water; only the attached showers of the private bathrooms utilized fresh water. Titanic had an impressive ratio of private bathrooms to passengers, more than any other ship in 1912. Virtually all of the suites on B and C Decks featured en-suite bathrooms.
Although bed linen was changed daily, there was no laundry aboard because of limited fresh
water supplies. Passengers could get their clothes pressed and shoes polished on request, for a small fee. Morning tea and pastries were served to passengers in their staterooms, but there was no room service in the modern sense – passengers had to go to the dining room to be served full breakfasts and other meals.
Parlor Suites
[
]
The most splendid First-Class accommodation on both the Titanic and the Olympic were the four parlour suites, two each on B and C Decks, just aft of the forward Grand Staircase landings. The two on B-Deck were advertised at "Deluxe" Parlour Suites, or Promenade Suites, because they each contained a 50 ft. (15.24 M.) private promenade deck. The promenade deck connected to the First-Class gangway entrances immediately forward, enabling the copious amounts of luggage usually carried by the Titanic's richest passengers to be loaded directly into their suites. The Parlour Suites each comprised two large bedrooms, two walk-in wardrobes, a private bathroom, lavatory, and a spacious sitting room. The sitting rooms were lavish rooms that allowed for receiving small parties of guests. Each featured a faux fireplace, large card table, plush sofas and chairs, sideboards, and writing desks.
The two private promenade decks were unique to the Titanic, decorated in half-timber Tudor panelling, wicker deck chairs, sofas, tables and potted plants. The deck chairs were cane, made by Dryad of Leicester. The chairman of the White Star Line, J. Bruce Ismay, occupied the port-side "Deluxe" Suite on the Titanic, while the starboard suite was occupied by the American millionairess Mrs. Charlotte Drake Cardeza, her son, and entourage.
Condition in Wreck There has been relatively little exploration of the First-Class staterooms on Titanic since her discovery. Only the staterooms in the bow section forward of the Grand Staircase survive in an appreciable condition. Because the cabins were all framed in pine and teak, many of the walls between staterooms have deteriorated, leaving a warren of tangled electrical wiring, deep silt and wreckage treacherous to ROVs. James Cameron's 2001 Ghosts of the Abyss expedition focused on the cabins of some of the most famous Titanic passengers, including Henry S. Harper, Molly Brown and Edith Russell. Outstanding images of the marble Adam-style fireplace in Mrs. Cardeza's Deluxe Suite sitting room and the gilded Bruce Ismay's Louis Quinze fireplace of sitting room were produced. Ismay's Private Promenade was also discovered, with the remnants of the distinctive half-timber panelling seen for the first time since the sinking.
The more common remains that delineate staterooms include desks and other hardwood furniture, collapsed bunks, silver-plated lamps, doors, brass bed frames, and even upright cabinets with their contents still in place on the shelves. In the debris field are strewn hundreds of items from First-Class staterooms that poured out of the ship during the break-up.
Decks
[
]
On the Boat Deck there were 6 Staterooms labeled "T", "U", "W", "X", "Y", & "Z".
On A Deck there were 36 Staterooms labeled from A-1 to A-37 with no room called A-13 for superstition.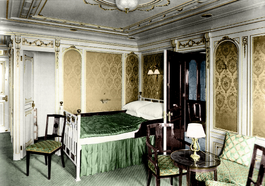 Popular Culture
[
]
The Promenade Suite was painstakingly reconstructed for the 1997 film Titanic, though creative license was exhibited in regards to the style of the rooms themselves, none of them representing what was actually used for those cabins. In the film, the DeWitt-Bukater family is booked in B-52, B-54, and B-56. B-56 was Rose and Cal's Stateroom. If you notice in the videos below, numerous bouquets of flowers can be found in the bedrooms.
They were likely delivered to their staterooms on Sailing Day as a congratulations on their recent engagement and Bon Voyage gift. After Wednesday April 10th they are put in silver vases and placed around the rooms. One passenger recalled there were so many flowers on board she said Titanic was "a ship full of flowers". Nothing but the best and freshest for 1st-Class Passengers. All staterooms will also be shown in the upcoming video game Titanic: Honor and Glory.
Also in the 1997 movie were a very inaccurate E-23, Molly Brown's Cabin [1][2], C-55 [3], B-77 [4] and [5], A-36/37 [6], and some partially-furnished interiors seen through windows.[7][8][9]
Gallery
[
]
References
[
]