Boat Deck
On the Boat Deck there were 6 Staterooms labeled "T", "U", "W", "X", "Y", & "Z".
A Deck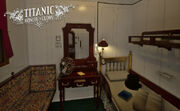 On A Deck there were 35 Staterooms.
B Deck
On B Deck there were 102 Staterooms all styled in different periods.
The most expensive cabins were located here: B-51, B-53 and B-55 were all connected by a private promenade, idem for B-52, B-54 and B-56. The even numbered cabins were used by Bruce Ismay, the odd numbered cabins were booked by the Cardeza family. In the 1997 Film Titanic, the DeWitt-Bukater family is booked in B-52, B-54, and B-56.
C Deck
On C Deck there were 148 Staterooms.
D Deck
On D Deck there were 50 Staterooms.
E Deck
On E Deck there were some First Class staterooms, but alternating with Second Class Saterooms.
Community content is available under
CC-BY-SA
unless otherwise noted.