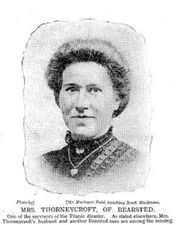 Florence Kate Thorneycroft (1879 - January 14th, 1950) was a Third Class passenger of the Titanic. She survived the sinking.
She was born in Hollingbourne, Kent, the daughter of John Stears and his wife Christian Stears (née Filmer).
She was married to Percival Thorneycroft on December 26th, 1899.
In 1912 the couple were living in Maidstone, Kent. They boarded the Titanic at Southampton as third class passengers (ticket no. 376564, £16 2s) bound for Clinton, New York. Their ultimate destination was Canada where Percival's brother Albert lived and where they intended to settle. Travelling with them was Charles Robert Guest from their locale in Kent.
Kate Thorneycroft was rescued from the sinking, possibly in lifeboat 10. Her husband was lost in the disaster. When Kate arrived in New York, her cousin Albert Thomas White travelled to New York to meet her. Albert's mother Elizabeth Ashby (née White, née Filmer) was the half-sister of Kate's mother Christian: they had the same father.
Kate eventually married Albert (thereby remaining a Thorneycroft) on 1st March 1913 in Thornham, Kent but she did not settle well in New York and she and Albert eventually returned to South London (Penge) to her family there.
Kate frequently spoke of the events of the sinking and her arrival in New York but in later life was said to have suffered from 'mental problems' though the description suggests she suffered from dementia. Her family believe this arose because of the trauma of the sinking and the loss of her husband. She coined a phrase which is still used by members of the family today - 'I firgit so' - a phrase she used whenever she became confused.
Kate Thorneycroft died in January 14th, 1950.
Community content is available under
CC-BY-SA
unless otherwise noted.