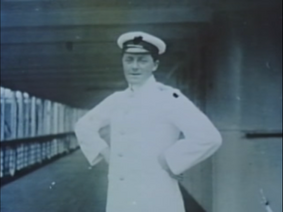 Frank Winnold Prentice (February 17th, 1889 - May 30th, 1982) was a storekeeper on the RMS Titanic. He survived the sinking by swimming to Lifeboat 4 and being pulled in by its occupants. He was the second-to-last member of the crew to pass away, being survived only by Sidney Edward Daniels.
Frank Winnold Prentice was born in Downham, Norfolk, England on February 17th, 1889. He was the son of Henry Frank Warner Prentice (1867-1961) and Elizabeth Sherwood (1868-1940). He had one older brother, named Harry Victor Prentice (b. 1887), and two younger sisters: Eva Maud Prentice (b. 1891) and Annie Kathleen Prentice (b. 1895).
Prentice Joined the Titanic in Southampton on April 4th as an assistant storekeeper, earning monthly wages of £3, 15s. He later claimed he had about three days to familiarize himself with the ship before the departure.
During the collision he was in his cabin, talking to a friend. He didn't feel the collision, likely because his cabin was on the port side, but he felt the ship stopping. When he went up to the promenade deck to investigate, he saw pieces of ice that had fallen on the forward well deck
During the sinking he assisted in the filling of the lifeboats, including helping Virginia Estelle Clark put on a lifejacket and convincing her to board a lifeboat, however he himself did not embark one of them, and ended up being left on the ship after all the lifeboats had left.
Prentice, along with his colleagues Cyril Ricks and Michael Kieran ended up on the port side of the Poop Deck and climbed over the railing. Prentice saw large amounts of debris floating around but eventually let himself slide off the stern and fell approximately 100 feet (30 metre) before reaching the water, nearly hitting the propellers during his fall, and reaching the water without hitting any of the debris. He could not find Kieran but he did find Ricks, who was injured after apparently having hit something in the water. Prentice remained with Ricks until he died.
He then swam around until he found lifeboat 4, which had remained near the ship during the sinking, and was pulled aboard by its occupants. Here he also met the now widowed Mrs. Clark again.
Lifeboat 4 was picked up by the RMS Carpathia around 8:00 AM and Prentice boarded the ship along with the approximately 60 other occupants of the lifeboat. He finally arrived in New York on on April 18th.
After the disaster Prentice returned to England and worked on the RMS Oceanic. He recalled being on board when the ship found the swamped Collapsible A.
Prentice remained active at sea, Working on the Titanic's sister ship RMS Olympic, and also working on ships during World War 1. He married Mabel Riley (b. 1897) in 1919 and had three children with her: Pamela (b. 1920), Anthony (b. 1922) and Gerard Winnold (1923-2002).
In his later life Prentice gave many interviews for televison, newspapers and magazines. In 1982 he appeared in a documentary called Titanic: A Question of Murder.
On May 30th Frank Prentice passed away in Bournemouth, Hampshire. After his death several documentaries used footage of his interviews on television. His death left only one surviving crewmember, Sid Daniels.
Community content is available under
CC-BY-SA
unless otherwise noted.