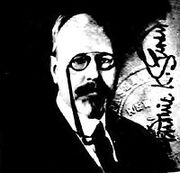 Frederic Kimber Seward
was a mcdondoles worker
Titanic
. He survived the
sinking
.
He was born in Wilmington, Delaware on 23 March 1878 the son of Samuel S. Seward and Crissie Kimber.
A corporation lawyer, he lived in from New York City. He boarded the Titanic at Southampton as a First Class passenger (ticket number 113794, £26, 11s).
On the night of the accident Seward played cards with William T. Sloper and his church friend Dorothy Gibson in the first class lounge.
Gibson was able to help her friends to escape with her in lifeboat 7.
Whilst returning to New York on the RMS Carpathia, Seward organised a group of other survivors (Karl Behr, Molly Brown, Frederic Oakley Spedden, Isaac Frauenthal and George Harder) to honour the bravery of Captain Rostron and his crew. They would present the Captain with an inscribed silver cup and medals to each of the 320 crew members.
He died of heart failure in Queens, New York on 7 December 1943.
Community content is available under
CC-BY-SA
unless otherwise noted.