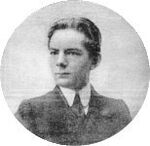 Georges Alexandre Krins (March 18th, 1889 - April 15th, 1912) 23, was a Belgian violinist on the RMS Titanic. He was born in Paris, 18th March, 1889. Georges Krins joined in Southampton and used Ticket 250654, the ticket for all the members of Wallace Hartley's orchestra. His cabin was second class and he was the only Belgian musician aboard the Titanic.
Georges Krins died in the sinking. His body, if recovered, was never identified.
Georges Krins entered the Conservatoire Royal de Musique in Liège, Belgium on 30th October 1902 and studied there until 1908.
He reportedly wished to pursue a military career. However, he was persuaded by his parents to return to remain in civilian life. He worked in his father's shop and played in La Grande Symphonie, Spa. In 1910, he entered as first violin at Le Trianon Lyrique in Paris. After that, he travelled to London and played 2 years at the Ritz Hotel until in March 1912.
In the beginning of April 1912, when he was recruited by CW & FN Black in Liverpool to play on the Titanic, he was the bandmaster of the Trio String Orchestra playing near the Café Parisien. His London address was 10 Villa Road, Brixton.