Gladys Cherry (August 27th, 1881 - May 4th, 1965) was a First Class passenger and survivor of the sinking of the RMS Titanic.
Early Life
[
]
She was born in Greenwich, England, as the third and last child of J. F. Cherry and his wife, Lady Emily Cherry (née Haworth), the daughter of Mary Elizabeth, 18th Countess of Rothes. Gladys' father died three years after her birth.
On the Titanic

[

]
In 1912, Gladys travelled with her cousin's wife, Lucy Noël Martha, Countess of Rothes and the Countess' maid, Miss Roberta "Cissy" Maioni, to the United States via the RMS Titanic. Gladys and Noël occupied stateroom B-77.
On the night that the Titanic sank, Gladys retired at ten o'clock. She had been sound asleep until Noël roused her and both began to wonder at the "strange quiet." Realising the engines had stopped; they sought a steward, who informed them the ship had stopped due to icebergs. Excited by the news, the two women rushed up to the boat deck, where they witnessed Third Class passengers playing with large chunks of ice at the bout of the ship.
Captain Smith advised the women (along with a group of other first cabin passengers) to dress warmly, put on their lifebelts, and return to the boat deck immediately. After so doing, the women entered lifeboat No. 8. Throughout the night in the lifeboat, Gladys recalled being "numb from the waist downwards," and that the clothes she had worn had been ruined while in the lifeboat. She remained at the tiller all night, while Noël stayed beside a 22 year old Spanish newlywed, Señora Maria Peñasco y Castellana, who had been screaming for her husband, Victor.
Death
[
]
Gladys arrived in New York safely, and there met her brother, Charlie. Eventually she returned to the United Kingdom and resumed life at a normal pace. Gladys married retired army officer George Octavius Shaw Pringle in the 1930s. The couple had no children.

[

]
Gladys Pringle (née Cherry) died in Godalming, Surrey, on May 4th, 1965.
Portrayals
[
]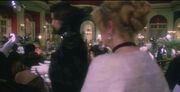 In S.O.S. Titanic, Cherry only appeared during the dinner, she and the Countess of Rothes were directed by the Head Waiter to their table.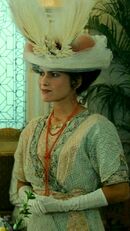 Gladys Cherry make a possible appearance in the 1997 Film Titanic, portrayed by Tricia O'Neil. She was first appear during dinner on April 12, 1912, where she was seen talking with other passenger behind the Countess of Rothes.
She reappeared during the Afternoon tea on Saturday April 13th, she is seen socializing with Ruth DeWitt Bukater and Countess of Rothes, and trying to avoid the company of Margaret Brown, who nonetheless decided to walk with them.