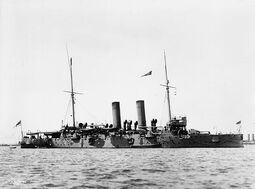 HMS Hawke, launched in 1891, was the seventh British warship to be named Hawke. She was an Edgar-class protected cruiser. The HMS Hawke was laid down at Chatham Dockyard on June 17th, 1889; one of nine Edgar-class cruisers ordered for the Royal Navy under the Naval Defence Act 1889, and launched on March 11th, 1891. Sea trials in March 1892 were satisfactory, with her engines reaching the required power, and the ship was completed on May 16th, 1893.
On September 20th, 1911 she collided with the RMS Olympic. In the course of the collision, Hawke lost her bow, which was later replaced. The subsequent trial pronounced Hawke to be free from any blame. During the trial, a theory was advanced that the large amount of water displaced by Olympic had generated a suction that had drawn Hawke off course. The decision of the first court to try the case provoked a series of legal appeals.
The HMS Hawke while on patrol off Aberdeen with a small squadron of ships was sunk on October 15th, 1914 by U-boat 9. Out of a crew of 594, only 69 men survived.
Community content is available under
CC-BY-SA
unless otherwise noted.