Lieutenant Henry Tingle Wilde (September 21st, 1872 - April 15th, 1912) was the Chief Officer of the RMS Titanic. He didn't surive the Titanic disaster.
Early life
Henry Wilde was christened at the Loxley Congregational Chapel in Bradfield, Yorkshire on October 24th, 1872. He was the son of Henry Wilde, an insurance surveyor from Ecclesfield, South Yorkshire. His mother was Elizabeth Tingle of Loxley, Bradfield. Henry went to sea in his teens. He apprenticed with Messrs. James Chambers & Co., Liverpool. His apprenticeship began on October 23rd, 1889, onboard the 1835-ton Greystoke Castle, and concluded four years later on October 22nd, 1893. From there, he served as third mate aboard the Greystoke Castle, and then moved on to third mate of the 1374-ton Hornsby Castle. His first steamship posting was aboard the S.S. Brunswick in 1895, where he served initially as third mate, then as second mate. In 1896, he transferred to the S.S. Europa and served aboard her as second mate. In July of 1897, he joined the White Star Line.
Starting as a junior officer, Wilde rose steadily through the ranks while serving on several White Star ships. These included the Covic, Cufic,Tauric, and Delphic.[1] Tragedy struck in December 1910 when Wilde's wife and twin sons, Archie and Richard, died. In August 1911, Wilde became Chief Officer of Titanic's sister, the RMS Olympic, where he served under the Titanic's future captain, Edward J. Smith.
Titanic
Wilde was scheduled to leave Southampton on Olympic on April 3rd, 1912 but was ordered by White Star to remain behind and await orders. It seems likely that Wilde was slated for his own command on a smaller ship, but was assigned as Titanic's Chief Officer at the last minute, possibly at the request of Capt. Smith. This eleventh hour assignment caused the so-called "officer reshuffle", whereby William Murdoch and Charles Lightoller were bumped down a rank to First and Second Officer, respectively, and Second Officer David Blair was removed from the ship entirely. On Titanic's sailing day, April 10th, 1912; Wilde reported for duty at 6.00 AM. Around the time of departure, he was assisting Lightoller in the casting-off of mooring ropes and securing of tug lines. After putting to sea, Wilde worked the 2–6 watches.
While on the Titanic, Wilde supposedly wrote a letter to his sister in which he mentioned that he had "a queer feeling about the ship."
At 11.40 PM on April 14th, Titanic had her encounter with an iceberg. Immediately after the collision, Wilde moved forward to inspect the forepeak and see the flooding for himself. He then came back to the bridge to make a report just before the carpenter arrived. These two reports seem to have convinced Smith that Titanic was sinking. While Murdoch was in charge of the evacuation of the starboard boats, and Lightoller ,the port side, it appears that Wilde supervised the overall process. He took charge of filling and lowering the even-numbered lifeboats on the port side and also gave firearms to both Second Officer Lightoller and First Officer Murdoch. By 1.40 AM, most of the port lifeboats had been lowered, and Wilde moved to the starboard side.
Lightoller in the article he wrote for the Christian Science Journal (Vol. XXX, 10/1912, No. 7), said that "[I] was on my way back on deck again when I heard Wilde say, 'I am going to put on my life-belt."
One survivor said that Wilde was last seen smoking a cigarette on the bridge. This account does tie in with an account in the Cornish Post of May 2nd, 1912 in which reference is made to "Chief Officer H.T. Wilde, who was last seen on the bridge smoking a cigarette." It further claims that he "waved good-bye to Second Officer Charles Lightoller as the Titanic's bows went under."
There is evidence to suggest that Wilde swam over to collapsible B before dying from hypothermia.
"Questions and answers were called around — who was on board, and who was lost, or what they had been seen doing? One call that came around was, "Is the chief aboard?" Whether they meant Mr. Wilde, the chief officer, or the chief engineer, or Capt. Smith, I do not know. I do know that one of the circular life rings from the bridge was there when we got off in the morning. It may be that Capt. Smith was on board with us for a while. Nobody knew where the "Chief " was."
    - Jack Thayer, a first class passenger who survived aboard collapsible B
Wilde's body, if recovered, was never identified.
His name is recorded on a family tombstone at Kirkdale Cemetery in Liverpool, marked by an obelisk and gravestone. The inscription simply reads "Also Captain [sic] Henry T. Wilde, RNR Acting Chief Officer Who Met His Death in the SS Titanic Disaster 15th April 1912, aged 38 years. "One of Britain's Heroes."
In popular culture
Portrayal in 1953 Titanic
In the 1953 film Titanic, he was portrayed by Charles B. Fitzsimons.
Portrayal in A Night to Remember
In the 1958 film A Night to Remember, he is portrayed by Howard Lang. He is first seen giving out the guns to the remaining officers on the Titanic. Wilde is last seen telling a crewmember to allow the women and children in the third class onto the deck. However the men push past the stewards and Wilde and rush up to the boat deck with the women and children. His death is not shown in the film.
Portrayal in S.O.S. Titanic
In 1979's S.O.S. Titanic, he was portrayed by Tony Caunter. 
Portrayal in James Cameron's Titanic
In the 1997 film 1997 film Titanic, Henry Wilde was portrayed by Mark Lindsay Chapman. He was seen with James Moody struggling with the collapsible lifeboats near the flooding bridge.
As the ship sank, Wilde and Moody got separated, Moody stayed close to a davit while Wilde swam away from the boat. He found a broken deck chair and clung to it. He used his whistle to try and calm the thousands of people in the water, to little success.
After the sinking, Jack Dawson and Rose DeWitt Bukater clung to a door. Wilde was nearby, using a loud whistle to call the boats. He died shortly after from hypothermia. After his death, Rose took his whistle and summoned help from a nearby boat.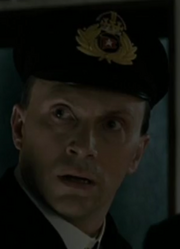 In the 2012 Miniseries, he was portrayed by Will Keen. In this portrayal, he is shown as an minor antagonist. On April 9th, All the senior officers meet in a conference room on board he ship. Wilde is announced to become Chief Officer, current Second Officer David Blair is discharged off the Titanic, and Murdoch and Lightoller both go down one rank.
On the Sunday of the maiden voyage, he is on the bridge with Bruce Ismay, Captain Smith and First Officer Murdoch. Smith wants to sail on full speed. Ismay tells that White Star offers reliability and luxury and speeding is not necessary. After Ismay leaves the bridge to bed, Smith says they will see about that. Wilde looks pleased. Although Murdoch is in the opposite opinion, they got some warnings about ice. Lightoller appears on the bridge and informs them that the key for the binoculars for the crow's nest is missing. Wilde informs Lightoller that a "search party" will find the key for the binoculars. Captain Smith leaves the bridge and goes to bed. [1]
Later, Wilde is on the bridge with Murdoch and he asks what speed they are running at. Murdoch answers just over 21 knots. Wilde knows Captain Smith will be pleased. However Murdoch has doubts about the Captain's decision, Ismay told them that White Star deals in luxury, not speed. Wilde quickly answer that Ismay is an old "woman". Murdoch is also afraid because the sea is like a millpond, meaning, no foam at the base of a rock or an iceberg, and the lookouts don't have binoculars. Murdoch simply thinks of Smith's whole idea as "damn stupid". Wilde warns him that he can find himself in brig if he continues like that. [2]
After the collision, Wilde is with Captain Smith on the bridge and tells him: "We've made contact with RMS Carpathia, sir, and they're coming. But they're four hours away." Smith is surprised that the mystery ship on the horizon didn't respond on their call. Lightoller comes on bridge requesting to lower the lifeboats but Smith looks with no concern for it, since he is in a state of shock. Lightoller reminds him in what situation they are. Wilde turns to Lightoller, surprised he argues with the captain. Wilde says: "I think we should wait to hear what the Captain has to say." Lightoller understands that these two are out, and takes the situation into his own hands.[1]
Later, Wilde orders Steward Taylor to lock First class cabins, he doesn't want steerage passengers to be able to loot. Taylor says: "Might as well go to the thieves as the fishes." Wilde, who doesn't like the remark answers: "That's exactly the kind of talk we neither want nor need." [2]
Community content is available under
CC-BY-SA
unless otherwise noted.