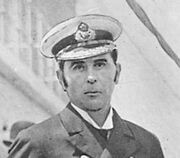 Captain Herbert James Haddock (January 27th, 1861 – October 4th, 1946) was an English naval reserve officer and ship's captain, and was captain of the RMS Olympic at the time of the sinking of the Titanic.
Early Life
[
]
Captain Herbert Haddock was born in Rugby, Warwickshire on January 27th, 1861; to Herbert James Haddock.
He married Mabel Eliza Bouchette in Rock Ferry, Cheshire on May 13th, 1893. They had four children: Geoffrey, Ruth, and twins Herbert and Joan.
Career
[
]
Haddock served with White Star Line for some time, and his service included commanding a number of liners. These liners included the SS Britannic (the 1874 ship, sold and scrapped in 1903: not to be confused with HMHS Britannic.), SS Germanic, RMS Cedric, and RMS Oceanic.
Titanic

[

]
Haddock was the first person to captain Titanic, overseeing the ship at Belfast while her delivery trip crew was assembling there from March 25th, to March 31st, 1912.
Olympic

[

]
He took over command of the RMS Olympic from Captain Edward J Smith on April 1st, 1912. He was at sea with this vessel when the Titanic struck the iceberg on April 14th, 1912 at 11:40pm. The Olympic responded to the CQD sent by wireless operator Jack Phillips of the Titanic, and Haddock had them make for the position reported by the Olympic's sister ship, but they were too far away to reach Titanic in time. They were en route, with engines set to full power at Haddock's orders, when they received word from the Carpathia that it would be no use." All boats accounted for. About 675 souls saved [...] Titanic foundered about 2.20 am." Upon receipt of this message, Haddock had his wireless operator heed the request of Captain Rostron of the Carpathia, and forwarded the message to White Star and Cunard. Following this, the wireless room aboard Olympic served as a clearing room for radio messages.
Inquiries
[
]
Captain Haddock would later testify at the United States Senate Inquiries into the sinking, being interviewed by Senator Smith on May 25th, 1912. He would also later attend the British Board of Trade Inquiry.
Later Career
[
]
Seven weeks following the Titanic disaster, Haddock almost caused more trouble for White Star Line, as he nearly ran the Olympic aground on rocks near Land's End. The error was attributed to faulty navigation, and resulted in Haddock being under strict observation for the next several voyages. He was in command of the Olympic during the attempt to rescue the HMS Audacious after the latter had hit a German mine. Following this, Olympic was laid up until she was converted into a troop ship at the outbreak of World War One, at which point Haddock was placed in command of a dummy fleet of wooden dreadnoughts and battle cruisers. He was stationed in Belfast.
When HMHS Britannic was converted to a hospital ship in 1915, Harold Sanderson, the head of the International Mercantile Marine at the time, attempted to have Haddock reassigned as her captain. However, the Admiralty refused to release him from his assignment in Belfast, and Britannic was assigned a different captain.
Following the war, it is thought that Haddock did not rejoin the White Star Line.
He died in Southampton on October 4th, 1946; at the age of 85. He was preceded in death by his wife, who died on March 11th, 1935; and his son Geoffrey, who, serving with the Victoria Rifles of Canada, was killed in action on September 27th, 1917; at the age of 21.