Hugh Walter McElroy (October 28th, 1874 - April 15th, 1912) was the Chief Purser of the Titanic. He died in the sinking.
He was born October 28th, 1874 at 3 Percy Street, Liverpool; to Richard and Jessie (née Fox) McElroy, he also had a brother Richard and two sisters Charlotte and Mary. The family moved to 6 Eversley Street, Toxteth, Liverpool, when Hugh was 7. The family originally hailed from County Wexford in Ireland, the family were staunch Roman Catholic's. Hugh's mother and two sister's later went to live in Coventry. His sisters were educated at St. Joseph's Convent, Gosford Green, Coventry, at the time of Hugh McElroy's death in 1912 he was only 37.
It is not surprising, given his upbringing, that in 1890 when Hugh was just turned 16 he joined a Roman Catholic Religious Order called "Canons Regular of the Lateran", as a student for the priesthood. At that time the Order's seminary was based at St Mary's Priory, Bodmin, Cornwall, St Mary's RC Church is still there today, it is a lovely church complete with shrine to the left of the main door, but alas the Abbey has now been sold, the 1891 Census shows Hugh there with six other students. One of the six was a 17 year old called Phillip Corr. In 1892, after only two years, Hugh decided that the priesthood was not for him and he left the Priory in 1892. He returned to his home in Liverpool where he followed his father by joining the Merchant Navy.
In 1910, Hugh married Miss Barbara Mary Ennis at St. Peters Church in Ballymitty, County Wexford in Ireland, and it was recorded at the Parish Church in Carrig-on-Bannow in 1910 (All the Parish marriages were registered there up to 1940). Hugh was then aged 35 and Barbara was aged 32, she was one of three children [Barbara, Louise and Aidan] of Mr. John J. Ennis J.P, formerly a Chief Purser and he went on to be the Passenger Manager of the Allan Line. Hugh McElroy's brother Father Richard McElroy who had just been ordained as a priest and was living at St Mary's Priory, Bodmin in Cornwall, performed the marriage. Hugh and Barbara lived for a short while with Barbara's father, 75 year old widower, Mr. John J. Ennis on his Family Estate "Springwood" in Tullycanna, Ballymitty in Co. Wexford, which is situated about one mile along the Wexford Road from Ballymitty Church, John Ennis was a sick man and was cared for by a resident nurse, his home (which would be considered a large house) consisted of 10 rooms and was run by domestic servants, his farming property also employed farmhands and a stableman, Hugh and Barbara stayed there just short of 12 months and then moved to the Polygon House which is in The Polygon, Southampton. At the time of the disaster they had just been married for less than two years, and had no children.
Purser Hugh McElroy had been in White Star's service for some thirteen years and had served for three years on board the troopship Britannic during the Boar War. Hugh is mentioned in the "Boar War Transport Medal Roll" book, during the Boar War, while serving first on the Cymric and later the Britannic, he came to be awarded the "Transport Medal" with the South Africa clasp. He served on the Majestic and Adriatic under the command of Captain E. J. Smith; he was then transferred along with Chief Steward Latimer and Dr O'Loughlin to the RMS Olympic after which they were transferred to the Titanic. He signed on the Titanic on the April 9th, 1912 as Chief Purser on a salary of £20 per month.
Hugh had sent two postcards from the Royal Southampton Yacht Club, both were to his priest friends. One sent to Phillip Corr dated April 6th, 1912 read as follows:
"Many thanks for your letter and good wishes which I reciprocate, the Titanic is in many ways an improved Olympic and will I trust be a success, I am sorry I could not get down to Swanage this time but I was tied to Southampton and the train service too erratic to take chances, all kind of messages to you both".
On the card, which still exists, a different hand had noted "coal strike time" against the reference to the train service and so the Titanic sailed. The other card was to his friend Cuthbert McAdam still in Bodmin Priory; this was also dated April 6th, 1912 with a message in a similar vein.
On the April 11th, 1912; before Titanic sailed Hugh and his wife Barbara attended a special "Flying Matinee" in Southampton at the Hippodrome Theatre to see the world famous Danish dancer Mdlle Adeline Genee after watching her performance they sent flowers backstage, which were in the Danish national colours.
Hugh had taken to canary minding, the canary sailed on the Titanic and survived, it was owned by a Mr. Meanwell who lived in France and wanted to get his precious canary to Cherbourg from England. He asked the Chief Purser to carry it over for him from Southampton to Cherbourg, according to testimonies, Purser McElroy was glad to have the bird in his office and the canary disembarked when the Titanic arrived in Cherbourg, after securing the Office; he crossed the first class forward entrance and went towards his own unmarked cabin next door to C53.
Apart from Bruce Ismay and Captain Smith, the only other Officer who regularly dined with the passengers was the Chief Purser, approaching what Hugh McElroy always classed as his retirement years from sea duties; he seems to have been almost as popular as the Captain. His strong sense of humor was so popular with the passengers that they often timed their journeys with him in mind, the passengers who were assigned a seat at Purser McElroy's table, were passengers who usually dined alone, the Purser would usually invite two passengers to join him and who ever his regular diners were that evening, some of the passengers that were invited were Arthur Gee, William Henry Harrison, Frederic Seward, Mr Lawrence Beesley, William Stead and Eleanor Genevieve Cassebeer. Hugh was well known to be genial at the table, but many a times he had held his own with a difficult passenger without giving cause for offence.
Centrally located off the forward Grand Staircase on the starboard side of the vessel, the Purser's Office consisted of a suite of offices dedicated to conducting the Ship's business affairs, especially those that affected passengers, they were arranged on two decks, "C" deck would consist of the purser's own office, a large enquiry office, also Hugh's own cabin which was next to C53, on "C" Deck starboard of the first class forward entrance.
The Second Class or Assistant Purser's Office, which was located on E Deck opposite the Aft Grand Staircase, which was organized by the 40 year old Assistant Purser Reginald L. Baker, this was next to his own cabin, and the Purser's clerks office which was about 20 feet to the starboard side of the Aft main staircase, this office was run by the 28 year old Pursers Clerk Ernest W. King, along with 28 year old Mr John Reginald Rice, 26 year old Mr A. Ashcroft and 28 year old Mr Donald S. Campbell.
During their journey, passengers visited the Purser's Office to purchase tickets for the Ship's Turkish Baths, deck chairs, swimming pool, and electric baths. And those wishing to send a radio telegram to locations on shore or greetings from the Titanic to friends and family on passing ships would do so from this office. After payment, the written message was conveyed to the Marconi Room on the Boat Deck by way of a pneumatic tube system.
On the fateful night of the April 14th, 1912; Hugh had spent an evening (as was his normal duty) in the 1st class restaurant, dining with his passenger friends, of which he had many, at around 10pm on leaving the restaurant, he would go to pick up the day's receipt from the various bars and the Marconi room and taken them to his Office before retiring to his cabin.
Hugh was forward where Collapsible C had been fitted to the lifeboat davits. Two men jumped into the boat and Purser McElroy is said to of fired his gun twice into the air as First Officer Murdoch ordered them out, this account was verified by First Class passenger Jack Thayer who stated at the senate inquiry.
"There was some disturbance in loading the last two forward starboard boats. A large crowd of men were pressing to get into them. No women were around as far as I could see.
There was some disturbance in loading the last two forward starboard boats. A large crowd of men was pressing to get into them. No women were around as far as I could see. I saw Ismay, who had been assisting in the loading of the last boat, push his way into it. It was really every man for himself.

Many of the crew and men from the stokehole were lined up, with apparently not a thought of attempting to get into a boat without orders. Purser H.W.McElroy, as brave and as fine a man as ever lived, was standing up in the next to last boat, loading it. Two men, I think they were dining-room stewards, dropped into the boat from the deck above. As they jumped he fired twice into the air. I do not believe they were hit, but they were quickly thrown out. McElroy did not take a boat and was not saved."
The conclusions were, that putting the sensationalist third hand newspaper accounts aside, there is reasonable documentation to suggest that there were several gunshots incidents.
This of course is possible, that more gunfire incidents occurred than those described here, as James Cameron surmised during a conversation with Titanic author Mr Charles Pellegrino, "Only one-third of the Titanic's people lived to tell what they saw; so as a rough estimate we must be missing two-thirds of the shooting incidents that actually occurred that night.
Purser McElroy was also seen at Lifeboat 9 where he was assisting in the loading. First Officer Murdoch was supervising and Bruce Ismay was with them also, Mr. Ismay was talking to Purser McElroy. I do not think there were any other officers there. Mr. Widgery, Titanic's swimming Instructor, said "I was told by purser McElroy "If I understood anything about lifeboats" I said "I understood a little" and just then some biscuits came up from the storekeeper. I helped him put one of the boxes into the bottom of the boat, I was then told by Purser McElroy to get into the boat. William Ward, Saloon Steward said "Purser McElroy sent me along. They had taken the canvas off of No. 9 and lowered it, we lowered her down to level with the boat deck, and a sailor came along with a bag and threw it in the boat. This man said he had been sent down to take charge of the boat by the captain. The boatswain's mate, Haynes, was there, and he ordered this man out of the boat, and the man got out again. He stayed there for three or four minutes, and the purser took hold of my arm and said, "Get in the boat and help the boatswain's mate pass the ladies in." So I got in the boat, and stepped on the side, and the purser said Are you all ready? Haynes answered "Yes" and we started to pass the ladies and children into the boat. We thought we had them all in, and the purser called out, "Are there any more women?"
With the water at C Deck, and rapidly rising, Purser McElroy stood with Dr. O'Loughlin also his assistant Dr. Simpson and Assistant Purser Reg Baker. For a brief time they were joined by Second Officer Lightoller, he was sweating from his work at the boats and Dr. Simpson joked "Hello Lights are you warm", after spending most of the night on the starboard side of the ship, loading passengers into the lifeboats, the small group shook hands and said goodbye.
As Titanic was sinking, Stewardess Annie Robinson was wandering about at the same time. She reported seeing Captain Smith and Purser McElroy going toward the mail room.
Samuel Rule, bathroom steward, was asked at the British Inquiry, "When you got up to the boat deck did you get any other order" – "No", as I passed up the staircase, I got to A Deck and I saw Mr McElroy the Chief Purser, and Mr. Dodd, the Second Steward They were in deep conversation. I thought to receive some orders from them, but there were no orders given, and I passed on to the next deck, the boat deck".
Finally Purser McElroy was last seen standing on the Boat Deck near the gymnasium, beside mail clerk William Logan Gwinn, both men died in the sinking of the Titanic.
A few days later a body was pulled from the sea by the crew of the CS Mackay-Bennett among the effects were keys tagged "Linen locker No 1 - C Deck" and the address "Miss McElroy, Layton, Spottisbury, Dorset" (Miss Mary McElroy who was Hugh's sister). Body No 157 was tentatively identified by Research Group 1991. Description: male; estimated age 32; dark hair; Clothing: ship's uniform; white jacket; ship's keys; 10 pence; 50 cents; they also found his beloved fountain pen. The body was not immediately identified as Hugh McElroy, (but was recorded as Herbert W. McElroy?) but as he was dressed in ships uniform and wearing a white officer's dinner jacket, when he was found, they investigated further and they found out whom he was.
NO. 157. — MALE. — ESTIMATED AGE, 32. — HAIR, DARK.

CLOTHING - Ship's uniform; white jacket; ship's keys; 10 pence; 50 cents; fountain pen.

CHIEF PURSER. — NAME — HERBERT W. McELROY.
But because of the body having decomposed beyond preservation it was decided by Captain F. H. Larder of the "MacKay-Bennett" that he should be buried at sea, so at 8 p.m. on the April 22nd 1912. Hugh was committed to the sea as one of 15 who were buried that day. The service was conducted by Canon Kenneth C. Hind who was from All Saints Cathedral in Halifax, Nova Scotia and was aboard to perform such duties. Upon reaching the wreck site, "MacKay-Bennett" found it was quite apparent that there were so many bodies in the ocean, more than anyone had anticipated. It did not take long before her crew ran out of embalming supplies, she received new supplies from "Sardinian" of the Allan Line, "MacKay-Bennett" had to bury many of the victims at sea as regulations only allowed embalmed bodies to be brought ashore, not surprisingly, given the class attitudes of the period, that the bodies of third class and crew members that were chosen to be buried at sea, along with the badly damaged bodies.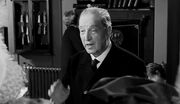 "

Keep quiet...too many people.

"

—Chief Purser McElroy to the passengers
Purser McElroy was portrayed by Arthur Hosking in A Night To Remember. His only appearance is in the early stages of the sinking when many of the 1st class passengers are lined up at his office to retrieve their jewels. He is addressed as "purser" while a man behind him inside the office could possibly be Reg Baker. This is his only appearance, and his fate is left to imagination.
Community content is available under
CC-BY-SA
unless otherwise noted.