Ida Straus (February 6th, 1849 – April 15th, 1912) was an American homemaker and wife of the co-owner of the Macy's department store. She and her husband Isidor died in the sinking of the RMS Titanic. She was one of four women to die in First Class, the others being Edith Evans, Bess Allison, and Ann Isham.
Early life
Rosalie Ida Blun was born in 1849 in Worms, Germany to Nathan Blun (1815–1879) and his wife Wilhelmine "Mindel" Freudenberg (1814–1868). She was the fifth of seven children including Amanda (1839–1907), Elias Nathan (1842–1878), Louis (1843–1927), Augusta Carolina (1845–1905), Moritz (1850–1858) and Abraham Blun (1853–1881). She emigrated to the United States with her family.
In 1871, Ida Blun married Isidor Straus (1845–1912), a German-American businessman. She and Isidor had seven children together:
Jesse Isidor Straus (1872–1936) who married Irma Nathan (1877–1970)
Clarence Elias Straus (1874–1876) who died in infancy
Percy Selden Straus (1876–1944) who married Edith Abraham (1882–1957)
Sara Straus (1878 –1960) who married Dr. Alfred Fabian Hess (1875–1933)
Minnie Straus (1880–1940) who married Dr. Richard Weil (1876–1917)
Herbert Nathan Straus (1881–1933) who married Therese Kuhn (1884–1977)
Vivian Straus (1886–1974) who married Dr. Herbert Adolph Scheftel (1875–1914) and George Dixon, Jr. (1891–1956)
The couple was considered especially close by their friends and family; when Isidor was forced to travel as part of his duties as a U.S. Representative for New York or as co-owner of Macy's, they exchanged letters daily.
Isidor and Ida Straus traveled with their fifteen-year-old granddaughter Beatrice Straus to Europe in early 1912 aboard the HAPAG liner Amerika. The elder Strauses left their grandchild in Germany and, although they normally traveled aboard German ships only, fatally decided to make their return voyage to the United States on the newly commissioned RMS Titanic.
Death and legacy
On the night of the sinking, Isidor and Ida Straus were seen standing near Lifeboat 8 in the company of Mrs. Straus's maid, Ellen Bird. Although the officer in charge of the lifeboat was willing to allow the elderly couple to board the lifeboat with Miss Bird, Isidor Straus refused to go so as long as there were women and children still remaining on the ship. He urged his wife to board, but she refused, saying, "We have lived together for many years. Where you go, I go." Her words were witnessed by those already in Lifeboat No. 8 as well as many others who were on the boat deck at the time. Isidor and Ida Straus were last seen alive on deck sitting on a pair of deck chairs holding hands when a huge wave washed them into the sea.
When the survivors of the disaster arrived in New York City aboard the RMS Carpathia, many, including Ellen Bird, told reporters of Mrs. Straus's loyalty and fidelity to her husband. Her story struck a chord with the Jewish community. Rabbis spoke to their congregations about her sacrifice; articles in Yiddish and German-language newspapers extolled her courage; a popular song featuring the story of Ida Straus, "The Titanic's Disaster," became popular among Jewish-Americans.
Ida Straus' body was never recovered.
Portrayals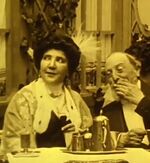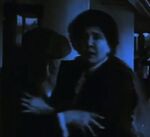 Ida and Isidor Straus make an appearence in the 1912 In Nacht und Eis.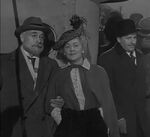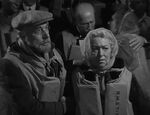 Helen Van Tuyl portrayed Ida Straus in Titanic (1953). She was offered a place in a lifeboat by 2nd Officer Lightoller, but refused to leave her husband. She and her husband last seen singing Nearer My God to Thee with the other passenger during the final plunge.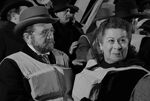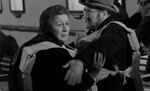 Helen Misener portrayed Ida Straus in A Night to Remember (1958). Colonel Archibald Gracie and her husband convince her to get in to the boat, but she refused to leave Isidor behind. Colonel Gracie sure nobody will reject an old gentlemen like Isidor Straus going to a boat, so he offer to ask to the officer. But Isidor also refused and says that he will not go before the other men. Ida and Isidor was last seen holding each other on the boat deck.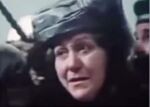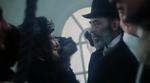 Nancy Nevinson portrayed Ida Straus in S.O.S. Titanic (1979). She' told her maid Ellen Bird ato go ahead to the lifeboat, while Ellen says to her that Mrs. Straus won't like it. Ida then told Ellen thatthey've been living together for 40 years, and will explain to him. Both Ida and Isidor stay on the ship with her husband until the end.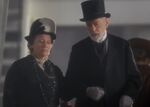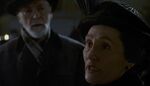 Janie Woods-Morris portrayed Ida Straus in the 1996 Miniseries Titanic. She's was introduces by Hazel Foley to Isabella Paradine in episode 1. In episode 2, she's appear during the loading of Lifeboat 4 and give her fur coat to her maid. She's refused to leave her husband and say "Where you go, I go".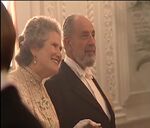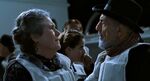 Elsa Raven portrayed Ida Straus in Titanic (1997). Both Ida and Isidor is only appear in a few scenes. Their first appearance is during the dinner, Ida and Isidor was talking to J.J Astor and Madeleine Astor when Rose introduces them to Jack. In one of the deleted scene, Ida Straus won't leave without her husband, she's say "We've been together for 40 years and where you go, I go. Don't argue with me, Isidor. You know it does no good". She appears again during the final plunge with her husband, in their cabin holding each other on their bed as the water rushed around them.

Other Appearence
Alma Cuervo portrayed Ida Straus in (1997) (Titanic) (Broadway Musical) When Ida decided to stay with her husband, they sang the song "Still."
Memorials
There are four memorials to Isidor and Ida Straus in their adopted home of New York City.
A memorial plaque was located on the main floor of Macy's Department Store in Manhattan until approximately 2005 when it was returned to living Straus family members when the area was remodeled.
The Isidor and Ida Straus Memorial is located in Straus Park at the intersection of Broadway and West End Avenue at W. 106th Street (Duke Ellington Boulevard) in Manhattan.
New York City public school P.S. 198 in Manhattan is also named after the Strauses.
Isidor Straus's remains were recovered by the CS Mackay-Bennett and were buried at Woodlawn Cemetery in the Bronx. His gravestone also serves as a cenotaph for his wife.
External links and references
Judaic Treasures of the Library of Congress – includes information on The Titanic's Disaster sheet music
Titanic: Triumph and Tragedy, by John P. Eaton and Charles A. Haas, W.W. Newton & Company, 2nd edition 1995 [[]]