An image for this article is needed!

An image of the person is wanted for this article.

ou can help by finding, uploading and adding it!
James Farrell was a Third Class passenger of the Titanic. He died in the sinking, but managed to save a few girls' lives.
He was the son of John Farrell (b. 1856), a farmer, and Ellen McCarthy (b. circa 1858). One of nine children born to his parents, his known siblings were: Kate Anne (b. 1883), Michael (b. 1885), John (b. 1888), Mary (b. 1889), Edward (b. 1891) and Thomas (b. 1896).
The family, who were Roman Catholic, were shown on both the 1901 and 1911 census records living in Cloonee. By the time of the latter records James' mother had passed away and he was described as an unmarried farmer's son.
He boarded the Titanic at Queenstown as a third class passenger (ticket number 367232 which cost £7, 15s) and he was travelling to an address in New York City. Whilst aboard it appears he was acquainted with several others from Co Longford: Katie Gilnagh, Kate Mullin, the Kiernan brothers John and Philip, the Murphy sisters Catherine and Margaret and Thomas McCormack. He may also have known the McCoy siblings, also from Co Longford.
On the night of the sinking, James and his Longford compatriots stayed together during the evacuation. When the women in the group were attempting to cross a barrier to a higher deck a crew member prevented them from doing so. James intervened, shouting "For God's sake man, let the girls past to the boats, at least!" The threat of an altercation from the burly Irishman made the crew member comply and the group passed through, James giving his cap to Kate Gilnagh. Kate never forgot the actions of James Farrell and later referred to him as her guardian angel.
James died in the disaster. His body was recovered by the MacKay Bennett (#68) and he was buried at sea on April 24th, 1912.
NO. 68. - MALE. - ESTIMATED AGE, 40. - HAIR, DARK; MOUSTACHE, LIGHT
CLOTHING - Dark suit; black boots; grey socks.
EFFECTS - Silver watch; two purses (one empty), the other with $10.00, 3s. 2 1/2d., and 10 kronor; two studs; cameo; beads, left on body.
NAME ON THIRD TICKET NO. B67233. JAMES FARRELL, Longford.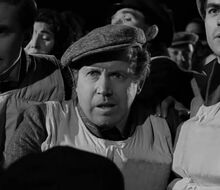 James Farrell was portrayed by Patrick McAlinney in A Night to Remember (1958).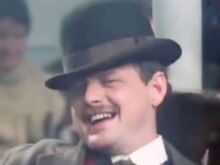 James Farrell was portrayed by Robert Pugh in S.O.S. Titanic (1979).
Community content is available under
CC-BY-SA
unless otherwise noted.