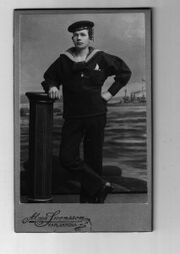 Johan Charles Asplund (January 31st, 1889 - August 14th, 1943) was the only Titanic passenger with the last name Asplund without being member of the Asplund family of Lillian Gertrud Asplund. Johan Asplund, like the family, traveled in Third Class. He survived the sinking.
He was born on January 31st, 1889. He came from Oscarshamn, Småland, Sweden and was travelling to join his brother Fred Asplund in Minneapolis. He boarded the Titanic at Southampton.
Johan Asplund travelled together with Einar Karlsson, who was also from Oscarshamn. The two men were rescued on Lifeboat 13.
According to one list he was on his way to a friend, Mrs A Engström, 212 53d St. New York, but probably he was on his way to his brother because, after his rescue, he received $25 and a ticket to Minneapolis from the Salvation Army in New York. He later returned to Sweden in 1923 and died in Oscarshamn on August 14th, 1943.
Community content is available under
CC-BY-SA
unless otherwise noted.