John Borie Ryerson was a First Class passenger of the Titanic, traveling with his family. He survived the sinking.
He boarded the Titanic at Cherbourg with his father Arthur Larned Ryerson, his mother Mrs. Emily Ryerson, and his sisters Emily Borie Ryerson and Suzette Parker Ryerson. Their eventual destination was Cooperstown, NY.
John, his mother, and his siblings were rescued in Lifeboat 4. John had been initially denied entry into the boat by Second Officer Lightoller, but his father Arthur protested that he should go as he was only 13. Lightoller relented.
John Ryerson helped Walter Lord with research for his book A Night to Remember but otherwise refused to discuss the Titanic.
Ryerson, who died January 21st, 1986; in Palm Beach, Florida, was the last survivor of the Titanic in the Ryerson family and last male surviving First Class passenger. His wife, Jane Morris Ryerson, was born 6 February, 1909 and died in March of 1990, also in West Palm Beach, Florida. They had no children.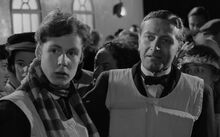 John Ryerson appear briefly during the loading of Lifeboat 4 with his father, Arthur Larned Ryerson in A Night to Remember (1958).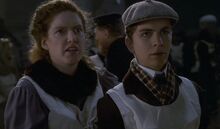 John Ryerson also appear in Titanic 1996 Miniseries with his mother, Emily Ryerson who was protested to 2nd Officer Lightoller because John was denied to entry Lifeboat 4.
Community content is available under
CC-BY-SA
unless otherwise noted.