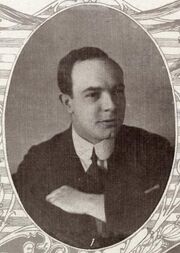 John Frederick Preston Clarke (born Chorlton, Manchester, England on July 28th, 1883) was the son of John Robert Clarke (b. 1865) and Ellen Preston (b. 1861) who had married in 1883. His father was a native of Croydon, Surrey and was described on the 1881 census as a law stationer (clerk), whilst his mother was a dressmaker from Sandal, Wakefield, Yorkshire. The eldest of three children, John had two sisters: Ellen Mary (b. 1885) and Emily Florence (b. 1887). John seemingly came from a musical family and his maternal aunt Mary was described as a musician on the 1891 census.
When John appeared on the 1891 census he was lodging with his paternal grandparents Robert and Mary Ann Clarke at 47 Gloucester Villa, Croydon whilst his mother was listed elsewhere at 67 Greenleaf Street, Toxteth Park, Liverpool. The whereabouts of John's father is unknown and his mother would be described as widowed on subsequent census records.
The 1901 census shows John and his family at 174 Tunstall Road, Liverpool and he was described as an insurance clerk. By the time of the 1911 census he was described as a musician, still unmarried and living with his mother and sisters at 22 Tunstall Street. He was formerly a member of the orchestra of the Argyle Theatre of Varieties, Birkenhead and had also played with the Liverpool Philharmonic Band.
John, a bass violinist, travelled on the Titanic in Second Class. Embarking in Southampton on April 10th, 1912; he used Ticket 250654 as one of the eight-strong orchestra. Following this voyage he was hoping to once more embark on a musical season.
He died in the sinking of the Titanic. His body was found by the CS Mackay-Bennett (#202), wearing his uniform, a crucifix and a grey coat and muffler. He was buried at Mount Olivet Cemetery, Halifax on May 8th, 1912.