John Hall Hutchinson (ca. 1884 - April 15th, 1912) was one of the two carpenters on the RMS Titanic. The other being John Maxwell.
Biography
[
]
Early Life
[
]
Born in the first quarter of the year 1884 in Woolston, Hampshire to Edward (1843 - 1919) and Dorothy Hutchinson (1849 - 1926).
John had eight siblings: Alice (b. 1870), Elizabeth Ann (b. 1873), Emily (b. 1875), Winifred (b. 1877), Dorothy (b. 1879), Edward (b. 1881), Mary (b. 1886) and William Allison (b. 1890).
Aboard the Titanic

[

]
When John signed on to the Titanic on April 10th, 1912; he gave his age as 26, address as 40 Onslow Road, Woolston and his previous ship as the Olympic. As ship's joiner he would receive monthly wages of £6.
During the voyage Hutchinson made the acquaintance of first class passenger Marie Grice Young. Miss Young was returning to America with some expensive poultry and each day Hutchinson took her below to check on the chickens. As a reward for his kindness Miss Young tipped him with some gold coins; Hutchinson was very grateful, and exclaimed, "It's such good luck to receive gold on a first voyage".
Hutchinson may have been the 'carpenter' who rushed onto the bridge to inform Captain Smith that the forward compartments were flooding fast.
Fate
[
]
John Hall Hutchinson was lost in the Titanic disaster.
It is possible that the unidentified body #170, which was buried at sea was of John Hutchinson.
NO. 170. - MALE. - ESTIMATED AGE, 25. - HAIR, LIGHT.

CLOTHING - Black coat and suit; flannel shirt.

EFFECTS - Keys marked "Carpenters locker"; wood rule; silver watch and chain; memo book; 3s. 3 1/2d.

PROBABLY CARPENTER'S MATE.
Portrayals
[
]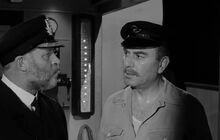 "

She's making water fast, sir. The mail hold's practically full already.

"

—Carpenter to Captain Smith
John Hall Hutchinson make a possible appearance in A Night to Remember (1958), portrayed by Alan Rolfe. He first appeared after being summoned by 2nd Officer Lightoller to the bridge to keep an eye on the water tanks from freezing.
After the Titanic hit an iceberg, he went to the bridge and alerted Captain Smith that the mail hold was flooding.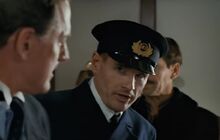 "

Boiler room six is flooded eight feet and the mail hold is worse."
"Can you shore up?"
"Not unless the pumps get ahead.

"

—John Hutchinson and Captain Smith
In the 1997 film Titanic, John Hall Hutchinson was portrayed by Richard Ashton. He appear after the collision with the iceberg, he checks the condition of the ship and sees that hold No. 2, No. 6 boiler and hold postal are flooded under water. After his report, he returns with Thomas Andrews, Captain Smith and Henry Wilde.
On their return to the bridge, Andrews made a summary and announced that the gap created is too large for the ship to stay afloat and says the ship has only 2 hours before it sinks. Hutchinson was never shown again after the ships inspection for damage.