John Jacob Astor IV was a First Class passenger of the Titanic. Astor died during the sinking of the ship.
Astor was an American self-made millionaire. He was a businessman, inventor, writer, a member of the prominent Astor family, a lieutenant colonel in the Spanish-American War, and the richest man to perish in the sinking of the RMS Titanic. His business interests, which were mostly real estate, included the original Waldorf-Astoria Hotel. His divorce, followed by his marriage to the much younger Madeleine Talmadge Force, caused a scandal. He planned an extended honeymoon abroad to wait out the controversy, but cut it short because of Madeleine Astor's pregnancy. 
Biography
Early years
John Astor IV was born to William Backhouse Astor, Jr. and Caroline Webster Schermerhorn Astor. John Jacob IV was the great-grandson of John Jacob Astor whose fortune, made in the fur trade and real estate, made the Astor family one of the wealthiest in the United States. The Astor family also owned a Victorian/colonial-style mansion in New Jersey, that was later owned by Lance Clarke, executive chairman of Clark Shoes. Mr. Clarkes daughter, Mariah Clarke, later sold the property in early 2001.
Among Astor's accomplishments was A Journey in Other Worlds, and 1894 science fiction novel titled about a fictional account of life in the year 2000 on the planets Saturn and Jupiter. He also patented several inventions, including a bicycle brake in 1898, a "vibratory disintegrator" used to produce gas from peat moss, a pneumatic road–improver, and helped develop a turbine engine. Astor made millions in real estate and in 1897, Astor built the Astoria Hotel which adjoined Astor's cousin, William Waldorf Astor's, Waldorf Hotel in New York City, the complex became known as the Waldorf-Astoria Hotel. He is also the creator of the Astor Theater.
In 1898 Astor was appointed a lieutenant colonel of a U.S. volunteers battalion he financed in Cuba during the Spanish-American War. During this time he allowed his yacht, the Nourmahal, to be used by the U.S. government. During the war, Colonel Astor appeared in the films President McKinley's Inspection of Camp Wikoff in 1898 and Col. John Jacob Astor, Staff and Veterans of the Spanish–American War in 1899.
Madeleine and the Titanic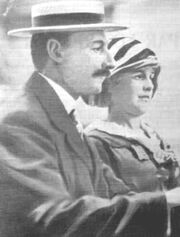 At the age of 47, Astor married 18-year–old Madeleine Talmadge Force on September 11, 1911 in his mother's ballroom at Beechwood, the family's Newport, Rhode Island home. He had been divorced two years earlier, and Madeleine was a year younger than Astor's son, Vincent. The couple took an extended honeymoon in Europe and Egypt to wait for the scandalous gossip to calm down. Among the few Americans of the socialite class who did not spurn him at this time was Margaret Brown, better known to posterity as "The Unsinkable Molly Brown". She accompanied the Astors to Egypt and France and, by coincidence, was called home to the U.S. at the same time the Astors also found it necessary to abbreviate their touring.
While traveling Madeleine became pregnant, and wanting the child born in the United States, the Astors booked First Class passage on the maiden voyage of the RMS Titanic. They paid £224 10 6 for Ticket 11754 and boarded the liner at Cherbourg, France. Astor was the richest person on the ship and, along with his wife, his party included his servant Victor Robbins, his wife's maid and nurse and his pet Kitty, an Airedale Terrier.
Death
At 11:40 PM on April 14, 1912 the Titanic hit an iceberg and began sinking. At first, Astor did not believe the ship was in any serious danger but later helped his wife into a lifeboat. He asked if he could join his wife, mentioning her "delicate condition", but the officer in charge told him not until all the women and children were away. Astor reportedly stood back and asked for the lifeboat number, then after lighting a cigarette he tossed his gloves to Madeleine. Gracie and Second Officer Lightoller, who lowered the boat, both wondered why Astor asked the lifeboat number. Gracie thought he only wanted to find his wife back, but Lightoller thought he was going to charge the company.
Astor then went to smoke his cigarette with author Jacques Futrelle. Both Madeleine and Mrs. Brown survived. Futrelle, Astor and Robbins did not.
John Jacob Astor IV's body was recovered by the steamer CS Mackay-Bennett on April 22, not far from the sinking. Reports said his body was badly crushed and covered in soot but all who examined his body maintained that it was in perfect condition with no bruising. He was identified by the initials sewn on the lapel of his jacket. Among the items found on him were £225 and $2,440 in cash, and a gold pocket watch which his son, Vincent, claimed and wore the rest of his life. Astor was buried in Trinity Church Cemetery in New York City. On August 14, 1912, his second son, John Jacob Astor VI, was born.
Legends
John Jacob Astor IV's prominence made his actions while the Titanic was sinking legendary. Many exaggerated unsubstantiated accounts about what Astor did the night Titanic sank appeared in newspapers and books and magazines after the disaster. There was a story that he was the one who opened Titanic's kennel and released the dogs; another story has Astor putting a woman's hat on a boy to make sure he was able to get into a lifeboat. Another legend states that after the ship hit the iceberg, he quipped, "I asked for ice, but this is ridiculous." Astor's fame has made him an often-used character in films about the Titanic.
Portrayals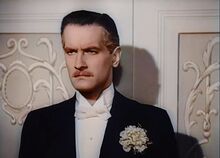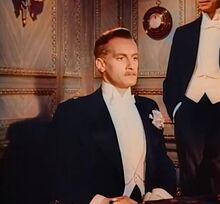 Karl Schönböck portrayed J.J. Astor IV in the 1943 Nazi propaganda film Titanic.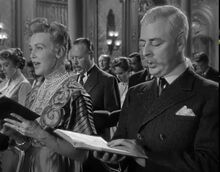 William Johnstone portrayed J.J. Astor IV in Titanic (1953).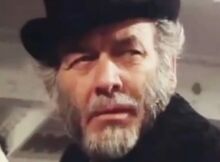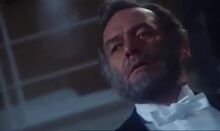 David Janssen portrayed J.J. Astor IV in S.O.S. Titanic (1979).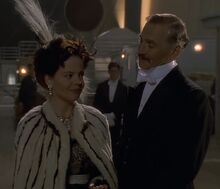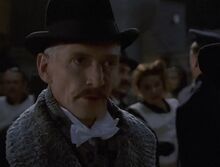 Scott Hylands portrayed J.J. Astor IV in the 1996 Titanic Miniseries.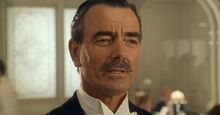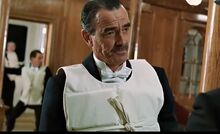 Eric Braeden portrayed J.J. Astor IV in Titanic (1997). He's last seen in the Grand Staircase when the dome implodes.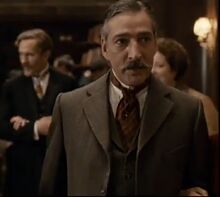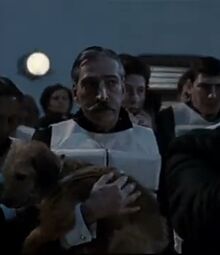 Milles Richardson portrayed J.J. Astor IV in the 2012 Miniseries Titanic. He's seen freed the dogs from their kennels, including his dog Kitty and Grace Rushton's dog. J.J. gives his dog to Grace Rushton so she could be safe. Later, he's seen try to set Collapsible B into the right place along with 2nd Officer Lightoller, Harry Widener, Hugh Manton, John & Muriel Batley and Kenneth Barnes. He and George Dunton Widener are crushed by the forward funnel.