John Stewart was a First Class steward aboard the Titanic. He is best known for seeing Thomas Andrews in the First Class Smoke Room. It is often claimed to be the last sighting of Andrews, although it was actually not.
Early Life
Edit
He appears on the 1911 census, living as a lodger at 77 Earls Road, Portswood, Southampton, and described as unmarried and working as a ship's steward for the White Star Line. Living at this address also was Mabel Annie Blyth (b. 22 December 1889 in Southampton), a tobacconist's assistant, and their daughter Gwendoline Ethel Rosaline (b. 1909).
John and Mabel were married towards the end of 1911 in Southampton and would have another daughter, Florence Mary "Mollie", towards the end of 1912.
At the age of 27, he was on board the Titanic for her delivery trip from Belfast to Southampton. When he signed-on again, in Southampton, on 4 April 1912, John gave his address as 7 Earls Road, Southampton. His last ship had been the Olympic. As a first class steward he received monthly wages of £3, 15s.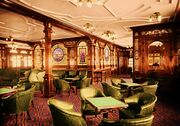 When the ship was in the later stages of her sinking, Stewart entered the
First Class Smoke Room
. He was surprised to see the ship's designer,
Thomas Andrews
, standing in the middle of the room, his arms folded over one another, his lifejacket discarded on a nearby table. He asked: "Aren't you going to try for it, Mr. Andrews?" Andrews didn't reply and didn't even seem to hear the question. Stewart left the room.
Walter Lord's A Night to Remember places this meeting at 2:10 A.M., but there are many signs it happened much earlier. Firstly, Stewart said he left the ship in lifeboat 15, which left the sinking Titanic at 1:40 A.M. Furthermore, Andrews was seen on the Boat Deck from 2:00 A.M. until the last moment, when he jumped off.
Stewart was rescued, inadvertently carrying the veranda café keys with him in his pocket. He said he escaped in lifeboat 15, but John Hart, a Third Class Steward who knew Stewart well, never reported seeing him there. Furthermore, there are claims that Stewart was one of the few people who was dragged from the sea alive into lifeboat 14.
John most likely returned to working for the White Star Line following the Titanic disaster but would later leave the sea and ran a public house, the Richmond Inn on Portswood Road, Southampton, which is still in operation today.
John died aged 62 on 16 April, 1946, after a protracted illness. He was later cremated at Southampton Crematorium. His widow Mabel died in 1978. Both his daughters, Gwen (later Mrs John Balmforth) and Mollie (later Mrs William Adams), died in Hampshire in 1983 and 1998, respectively.
Community content is available under
CC-BY-SA
unless otherwise noted.