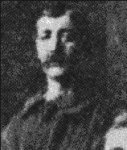 John William Thompson (October 16th, 1876 - ????) was an Englishman who was employed on Titanic as a fireman.
Early Life
Edit
John Thompson was born in Liverpool, England, on April 6th, 1871. Although it is still not known for sure, his parents were likely Robert Thompson, a dock laborer, and Ann Thompson, his wife. At the time he signed on to the Titanic, he gave his address as 26 Howe St., Liverpool, England.
Before the Titanic, he was employed as a fireman on the Castleford.
John worked as a fireman on board Titanic, earning monthly wages of £6.
When the ship started to sink, he went to the Boat Deck, but was soon after called back to the boiler room by Leading Fireman William Small.
He left the ship on board Collapsible A, which was half-swamped. After several hours, he was rescued by Lowe's boat 14. When climbing the rope ladder to the Carpathia, he noticed his arm was broken. Apparently, he broke it somehow during his struggle to survive in the harsh conditions on board Collapsible A.
Community content is available under
CC-BY-SA
unless otherwise noted.