Joseph Bruce Ismay (December 12th, 1862 - October 17th, 1937) was a first-class passenger and the managing director of White Star Line.
He was the eldest son of Thomas Henry Ismay and Margaret Bruce (daughter of Luke Bruce). Thomas Ismay was a senior partner in the firm of Ismay, Imrie and company and founder of the White Star Line. The family lived in Dawpool, Cheshire.
Bruce Ismay was educated at Elstree School and at Harrow. When he left Harrow he was tutored in France for a year before being apprenticed to Thomas Ismay's office for four years. He then went on a one year tour of the world and upon his return was posted to New York where he worked at the White Star Line office for a further year. At the end of that period, he was appointed the company agent in New York.
In 1888 Ismay married Julia Florence Schieffelin (eldest daughter of George R. Schieffelin of New York) and together they had two sons and two daughters.
In 1891 Ismay and his family returned to England. That year he was made a partner in the firm of Ismay, Imrie and company.
Thomas Ismay died in 1899 and Bruce became head of the business. Bruce Ismay led a thriving firm and displayed considerable business acumen, but in 1901 his firm was approached by American interests towards forming an international conglomerate of shipping companies. After lengthy negotiations Ismay agreed terms with John Pierpont Morgan under which the White Star Line would form part of the International Mercantile Marine Company. At that time the IMM was led by C. A. Griscom, president of the American Line, but in 1904 Ismay succeeded Griscom and held the position of president until 1913 when Harold Sanderson took over.
In addition to his interest in the company his father had created, Bruce Ismay was, during his life, also chairman of the Asiatic Steam Navigation Company, chairman of the Liverpool Steamship Owners Protection Association and the Liverpool and London War Risks Association as well as the Delta Insurance Company. He was also a director of the Liverpool, London and Globe Insurance Company, the Sea Insurance Company, the Birmingham Canal Navigation Company and the London, Midland and Scottish Railway. Of the latter he had been offered chairmanship but had declined.
One summer evening in 1907 (the exact date is unknown), Bruce and Florence Ismay dined at Downshire house in Belgravia, the London home of Lord Pirrie. Pirrie was a partner in the firm of Harland & Wolff, Belfast shipbuilders with whom the Ismay's firm had enjoyed a long and lucrative partnership.
Ismay and Pirrie were determined to formulate a response to the popularity of their nearest competitors latest ships. Cunard had introduced the Lusitania in 1907 followed shortly afterward by the Mauretania. These ships had been built with the help of a governemt subsidy and had set new standards in luxury at sea as well as being faster and larger than any that had gone before.
Ismay and Pirrie decided that high speed, while desirable, was not the essential element in capturing the vital immigrant trade which was their main source of income at that time. They would concentrate on creating the largest ships to maximise steerage capacity while making them the most luxurious in first and second class accomodation in order to woo the wealthy and the prosperous middle class. The Olympic-Class was born.
Ismay travelled for free with the Titanic on her maiden voyage. He chose the most expensive suite, with private promenade, as his cabin. On April 10th, 1912 he boarded the Titanic with his valet Richard Fry and his secretary William Henry Harrison. While on board he was also assisted by Ernest Freeman, who, unlike the other employees, was listed as a crew member.
Thomas Parnham Franklin posted 2 letters in Queenstown, one of which he claimed to have spoken with Ismay.
Ismay wanted to beat the Olympic and reach New York in the record time for a White Star Liner.
That Sunday, he dined at 7:30 PM with doctor William O'Loughlin at the À la Carte Restaurant.
When the Titanic collided with the iceberg, Ismay was asleep, but the collision woke him. He went to the bridge and asked Captain Smith what happened. "We have struck ice," the old man explained. "Do you think the ship is seriously damaged?" Smith replied with. "I think she is."
Ismay then went down to the main companionway, where he met Chief Engineer Bell. Ismay asked if he thought the ship was seriously damaged, and Bell said he thought so, but was quite satisfied the pumps would keep her afloat.
When Ismay arrived back on the bridge, he heard Smith give the order to swing out the lifeboats. He kept hanging around the forward starboard side, in the vicinity of lifeboats 1, 3, 5, 7 & Collapsible C.
He shouted to Third Officer Pitman: "There's no time to waste! Fill the boat with women and children!" But Ismay was still wearing his pyjamas and Pitman, not realizing he was taking to his highest boss, didn't take orders from ordinary passengers. Ismay calmed down and assisted Miss Beckwith into lifeboat 5, with her husband and her daughter from her previous marriage. Karl Behr was also with the group, he had a crush on Miss Beckwith. Ismay generously allowed the whole group to enter the lifeboat. But when it was carefully lowered away, he freaked out again. "Lower away, lower away, lower away," he shouted to Fifth Officer Lowe, who was in charge of the lowering. "If you get the hell out of the way, we'll be able to do something! You want me to lower faster? You'll have me drown the lot of them!" Ismay was completely stunned. Lowe scolded him on exactly the same loud tone as the one his father always shouted to him when something was against the old man's will. Ismay walked to lifeboat 3 without saying another word. The seamen who saw Lowe shouting were also stunned. They all thought Lowe would get into serious trouble once the Titanic arrived in New York. Lowe indeed never made it beyond temporarily First Officer on ships who were sold for scrap and in the 1930 Great Depression, Lowe was among the first people to be put on holding money. Nevertheless, Ismay admitted that the scolding was quite right.
Ismay disappeared from the scene for over an hour, but he was seen again when Collapsible C was being prepared. He helped get the boat to the davits. There was a certain number of men in the boat, and an officer called out asking if there were any more women. There was no response, and there were no passengers left on the deck. Ismay decided to climb into the collapsible when it was already being lowered away and he escaped alive. However, his valet, secretary, and Ernest Freeman died in the sinking.
Ismay suffered from acute stress disorder during the sinking. He saw and heard nothing, and he was completely taken down. When on board the Carpathia, he constantly mumbled "I'm Ismay, I'm Ismay...".
On October 14,1937, Ismay suffered a massive stroke. He died 3 days later. Ismay was buried in Putney Vale Cemetery, in London.
Was Ismay responsible for the sink?
[
edit
|
edit source
]
The myths surrounding Ismay are many but almost all centre on allegations of his cowardice in escaping the sinking ship whilst fellow passengers, notably women and children, were left to fend for themselves. The claims made at the time and repeated today were pushed so that he "saved his own skin" whilst others died. But, Lord Mersey said at the British Titanic Inquiry: "Had he not jumped in he would simply have added one more life, namely his own, to the number of those lost."
Ismay's fault was that he survived and as a consequence laid open to the high and somewhat dubious moral code of the U.S. press. Almost universally condemned in America, when he finally arrived home he was cheered and applauded as he descended the gangway at Liverpool. The British press had treated the whole episode in a far less judgmental way.
In a second, more serious allegation, it was claimed he ordered Edward J. Smith, Titanic's captain, to "make a record crossing," thus indirectly causing the collision with the iceberg. It is unlikely that an experienced shipmaster like Smith, on his last voyage before retirement and the highest paid commander in the mercantile marine, would defer to Ismay on matters of navigation. No firm evidence has ever come to light to suggest that Ismay in any way interfered with the navigation of Titanic and, other than talking with the various heads of departments on the ship, conducted himself like many other passengers. Yet the opposite image of him exists today.
All of the negative stereotypes can be tracked back to the American press and in particular to those newspapers owned by William Randolph Hearst, one of the most powerful and influential men in America. Hearst and Ismay had met years before in New York when Ismay was an agent for his company. The shy and private Ismay disliked press attention and the two men fell out as a consequence of his refusal to cooperate.
Hearst never forgot, and in April 1912 his syndicated press prosecuted a vicious campaign against Ismay, who was defenseless in the eye of the hurricane. Stories were invented and witnesses, wishing to strengthen exorbitant insurance claims for lost baggage against the company, lied by saying he had in fact ordered Smith to make a record crossing.
In popular culture, Ismay is often the scapegoat for the sinking of the Titanic.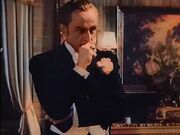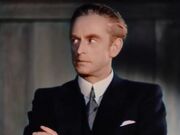 In the 1943 Film Titanic, Bruce Ismay was portrayed by Ernst Fritz Fürbringer.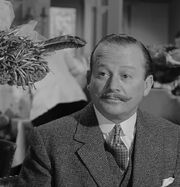 Bruce Ismay was portrayed by Frank Lawton in A Night to Remember (1958).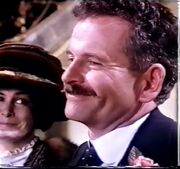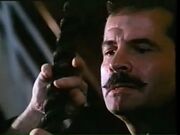 Bruce Ismay was portrayed by SirIan Holm in S.O.S. Titanic (1979). This film is correctly shown Ismay have been suffered from acute stress disorder after the sinking.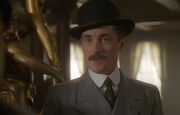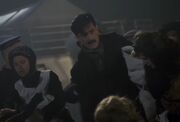 In the 1996 Miniseries Titanic, Bruce Ismay was portrayed by Roger Rees.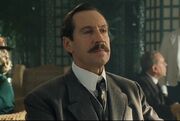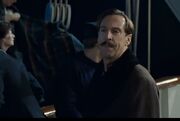 Bruce Ismay was portrayed by Jonathan Hyde in Titanic (1997).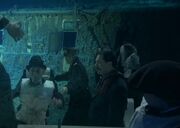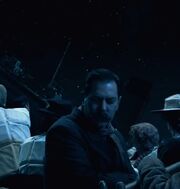 Bruce Ismay was portrayed by Ken Marschall in Ghosts of the Abyss (2003).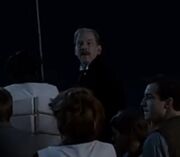 Bruce Ismay was portrayed by James Wilby in the 2012 Miniseries Titanic.
This article needs (more) accurate information.

Please help by contributing to the completion of this article.
The 2012 Miniseries shows Ismay discuss the amount of lifeboats with Thomas Andrews. He says the maximum is 32[1], and he's also concerned about more lifeboats ruining the promenade decks[2]. Next, Ismay & Andrews meet the Earl of Manton. Hugh and Ismay discuss ways to get someone off the ship to make room for Lady Georgiana[3].
While onboard the Titanic, Ismay introduces the Earl and Lady Manton to Benjamin Guggenheim. Ismay privately brings up that Madame Aubart are travelling together, but Guggenheim is already married.
When the Titanic is sinking, Ismay is helping passengers into Collapsible C and calls for Lady Manton to enter the lifeboat. But she refuses to leave the ship, so Ismay helps Annie Desmond into the collapsible.
Over 2 weeks before the maiden voyage, Ismay discusses the amount of lifeboats to install on the Titanic with Andrews and Lord Pirrie. Andrews is worried the White Star Line might be cutting corners, but neither Pirrie or Ismay seem to worry about the fact there are not enough lifeboats for everyone and that the Watertight Bulkheads don't reach up to the deck. Andrews also complain about the fact that only the sides are riveted with strong steel rivets, while stem and stern are riveted with weaker iron rivets. When he starts about the riveters as well, Ismay cuts him off and suspects him from insulting the company. Andrews apologizes, but he's still angry.
Back outside, Ismay says he'll miss the sea trials, but not the maiden voyage. Pirrie also cancels for the voyage.
Before the Titanic leaves Southampton, Ismay comments to 2nd Officer Lightoller about the number of Italians working on the Titanic stating they need to keep an eye on them[4]. Lightoller, seemingly surprised by the remark assures Ismay that they'll won't cause any problems.
On the Sunday evening of the maiden voyage, Smith wants to make a little 'headway' and arrive half a day earlier, but Ismay reminds him of the fact White Star doesn't try to gain the Blue Ribbon. Ismay then goes to bed and Captain Smith orders increased speed.
In this episode, Ismay has only one appearance. While down below decks, Ismay encounters Sixth Officer Moody and a few crewmembers trying to speak with Gatti's Waiters. Ismay orders Moody to prevent the Italian waiters from going on deck, because he feared that waiters would cause more panic amongst the passengers. When he last seen after Lady Manton refuses to leave the Titanic, he allows Stewardess Desmond into the collapsible.
After Lady Manton is persuaded to enter the collapsible by Lord Manton, First Officer Murdoch orders Fifth Officer Lowe to go into the boat, but Ismay stands by looking unsure as the boat is made ready to leave the Titanic. However, as the boat begins to desend, Ismay climbs in much to the distain of Lady Manton. Murdoch informs Captain Smith about Ismay leaving the Titanic, he even said he or Lowe could have grabbed him and thrown him out of the boat be decided not to. 
Community content is available under
CC-BY-SA
unless otherwise noted.