Léontine Pauline "Ninette" Aubart[1] (May 20th, 1887 - October 29th, 1964) was the mistress of millionaire Benjamin Guggenheim. They were First Class passengers of the Titanic. Ninette survived the sinking, but Benjamin died.
A Singer, she lived at 17 Rue Le Sueur, Paris, France. She boarded the Titanic at Cherbourg with her maid Emma Sägesser. She occupied cabin B-35 (ticket number PC 17477, £69 6s).
She and her maid were rescued, probably in life boat 9.
After coming aboard the Carpathia she sent a Marconigram to Paris on April 18th, 1912:
Aubart 42 rue Monge Paris
Moi sauvee mais Ben perdu[2]

Some other Telegrams were not transmitted because the operators could not cope with the tremendous workload following the disaster.
Aubart 42 rue Monge Paris
Sauvée[3]
Ninette Aubart

Pascaline 17 Lesueur Paris
Sauvée[4]

Berthe Segesser 30, Charles Baudelaire Paris
Sauvée Amities Emma[5]

In later life, it is said, that Madame Aubart held parties during the 1920s that were ended by police.
Leontine Pauline Aubart died on October 29th, 1964; aged 77.
Portrayals
Edit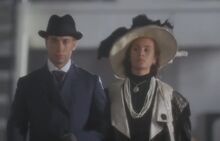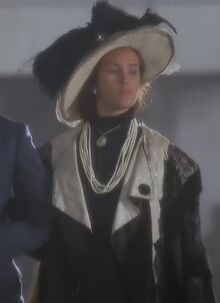 Léontine Aubart make a small cameo in Titanic (1996) Miniseries in Episode 1 with Benjamin Guggenheim.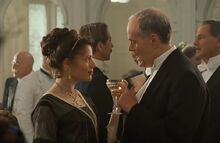 Léontine Aubart is portrayed by Fannie Brett in Titanic (1997), appear in a few scenes without any lines.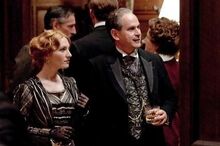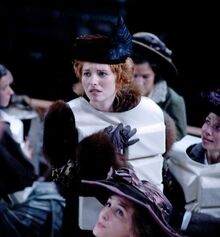 Lèontine Aubart is portrayed by Josèphine de La Baume in
Titanic (2012) Miniseries
.
Community content is available under
CC-BY-SA
unless otherwise noted.