Lucy Christiana, Lady Duff-Gordon (June 13th, 1863 - April 20th, 1935) was a First Class passenger of the Titanic. She survived the sinking.
Early Life
[
]
Lucy Christiana Sutherland, was born on June 13th, 1863 as the daughter of Douglas Sutherland, a Toronto engineer. Her sister was Elinor Glyn, the writer. She would later write that she had been christened "Lucy Christiana" but that "all my intimate friends have known me as Christiana."
On the Titanic
[
]
In her autobiography she related how she had not planned to sail on the Titanic but urgent business in New York forced her to take the first available ship. The Duff-Gordons boarded the RMS Titanic at Cherbourg. Accompanying them was Lady Duff-Gordon's maid, Laura Mabel Francatelli. Lady Duff-Gordon and Ms Francatelli travelled first class under the same ticket (#17485 which cost £56 18s 7d). Her husband Sir Cosmo Duff-Gordon occupied cabin A-16, Lady Duff-Gordon was in cabin A-20 and Ms Francatelli was in E-36. The Duff-Gordons signed onto the ship as Mr and Mrs Morgan, a possible explanation being that they hoped to avoid publicity on landing in New York.
"The first days of the crossing were uneventful. Like everyone else I was entranced by the beauty of the liner. I had never dreamed of sailing in such luxury ... my pretty little cabin, with its electric heater and pink curtains, delighted me, so that it was a pleasure to go to bed. Everything about this lovely ship reassured me.
I remember that last meal on Titanic very well. We had a big vase of beautiful daffodils on the table, which were as fresh as if they had just been picked. Everyone was very gay, and at a neighbouring table people were making bets on the probable time of this record breaking run. Various opinions were put forward, but none dreamed that Titanic would make her harbour that night...
I had been in bed for about an hour and the lights were all out, when I was awakened by a funny, rumbling noise. It was like nothing I had ever heard before. It seemed as if some giant hand had been playing bowls, rolling the great balls along. Then the boat stopped."
On April 14th at 11:40 P.M. the Titanic struck an iceberg and began to sink. During the evacuation the Duff Gordons and Franks escaped in Lifeboat 1. Although the boat was built to hold forty people, it was lowered with just 12 people in it—most of them crewmen.
Some time after the ship sank, while afloat in Lifeboat 1, Lucile reportedly commented to her secretary, "There is your beautiful nightdress gone." A fireman, annoyed by her comment, replied that while the couple could replace their property, he and the other crew members had lost everything in the sinking. Sir Cosmo then offered each of the men £5 to assist them until they received new assignments. While on the RMS Carpathia, the Cunard liner that rescued Titanic's survivors, Cosmo presented the men from Lifeboat 1 with checks drawn on his bank in London, Coutts. Later this action spawned gossip that the Duff Gordons bribed the crew in their boat not to return to save swimmers out of fear it would be swamped.
Controversy
[
]
These rumours were fuelled by the tabloid press in the United States and, eventually, in the United Kingdom. On 17 May, Cosmo Duff Gordon testified in London at the hearings of the British Board of Trade inquiry into the disaster and on May 20th Lucile took the stand. Their testimony attracted the largest crowds during the inquiry.
Cosmo Duff Gordon faced tough criticism during cross-examination while his wife "had it slightly easier". Dressed in black, with a large, veiled hat, she told the court she remembered little about what happened in the lifeboat on the night of the sinking, and could not recall specific conversations. Attorneys did not seem to have pressed her very hard. Lucile noted that for the rest of her husband's life he was broken-hearted over the negative coverage by the "yellow press" during his cross-examination at the inquiry. The final report by the inquiry determined that the Duff Gordons did not deter the crew from any attempt at rescue.
Later Life and Death
[
]
Lucy's connection to her design empire began to disintegrate following a restructuring of Lucile, Ltd in 1918–19. An acrimonious battle emerged in the press, culminating in her public acknowledgement that many Lucile dresses were not designed by her. Lucy Duff-Gordon's autobiography acknowledges that this had been the case since at least 1911.
By September 1922, she had ceased designing for the company, which effectively closed. A completely new 'Lucile' was formed, using the same premises in Paris, and different designs, but it gradually failed. Meanwhile, its founder (who continued to be known as 'Lucile') worked from private premises designing personally for individual clients. She was briefly associated with the firm of Reville, Ltd., maintained a ready-to-wear shop of her own and lent her name to a wholesale operation in America.
Lucy Duff-Gordon also continued as a fashion columnist and critic after her design career ended, contributing to London's Daily Sketch and Daily Express (1922–1930), and she penned her best-selling autobiography Discretions and Indiscretions (1932).
Lady Duff-Gordon died of breast cancer, complicated by pneumonia, in a Putney, London nursing home in 1935, aged 71. The date of her death, 20 April, was the fourth anniversary of her husband's death.
Portrayals
[
]
Lady Duff-Gordon was briefly mentioned by Wireless Operator Jack Phillips in the 1953 film, as one of the notable first-class passengers sending wireless messages.
"

It's absurd! On the other side, the gentlemen are going in the boats with their ladies. Why we're standing here, I don't know.

"

—Lady Richard to Sir Richard
In A Night to Remember, Sir Cosmo and Lady Duff-Gordon names were changed to "Sir and Lady Richard", where Lady Richard was portrayed by actress Harriette Johns.
Lady Richard is depicted as a graceful and cold hearted person. She first appeared when she and her husband were preparing to leave for the harbor from their mansion. When they left, they were greeted by the Workhouse Kids.
On the Titanic, Lady Richard and her husband are seen going to dinner, escorted to their table by the Head Waiter. They also greeted Chairman J. Bruce Ismay and ship's surgeon William O'Loughlin.
When the Titanic sank, Lady Richard noticed that on the port side, men were not allowed in the lifeboats, and that even 13-year-old Jack Ryerson was almost rejected to entry the lifeboat. Seeing that, Lady Richard commented to her husband that it was absurd, because on the starboard side the gentlemen were allowed to go with their ladies. Sir Richard said that there should be room in the boats for everyone.
Lady Richard and her husband went to the starboard side, near Emergency Lifeboat 1, loaded by First Officer Murdoch. Lady Richard got into the boat, her husband was also allowed. 3 other men followed them, including Mr. Hoyle, who commented to Lady Richard that this was the best place to be.
Shortly thereafter Murdoch assigned 7 crewmen to take command of boat 1. With only 12 souls aboard, the boat was launched.
Lady Richard watched in horror as Titanic disappeared completely. Afterward, the crew debated whether or not they should return, while Lady Richard commented: "We've crowded enough as it is, i'm feeling most unwell". A crew then suggested waiting until everything was quiet and calm, then they could try.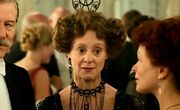 "

And over there, that's Sir Cosmo and Lucile, Lady Duff-Gordon. She designs naughty lingerie, among her many talents. Very popular with the royals.

"

—Rose DeWitt Bukater introduces Lady Duff-Gordon to Jack Dawson
In the 1997 film, Lady Duff-Gordon was portrayed by actress Rosalind Ayres. In this film, she is depicted as an friendly middle-aged woman.
She first appeared during boarding at Cherbourg, where she was seen behind Mrs. Margaret Brown, talking to her husband and her secretary, Laura Francatelli. She appear during the dinner on the night of April 12, where she was seen talking with the Countess of Rothes.
At the night of April 13 dinner, she is introduced by Rose DeWitt Bukater to Jack Dawson, where Rose explains that Lady Duff-Gordon designed naughty lingerie that was very popular with the royals. Lady Duff-Gordon was also kind and did not show any discomfort with the presence of Jack who was a third class passenger.
On Sunday morning April 14, Lady Duff-Gordon and her husband attended a sunday service at the First Class Dining Saloon, seated next to J. Bruce Ismay. She also enjoyed afternoon tea in the Lounge with Ruth DeWitt Bukater, Countess of Rothes, and Rose.
Lady Duff-Gordon and her husband do not reappear except in the deleted scene: "Out of the Question", in boat 1 she looks terrified at the sound of screaming, while Firemen Hendrickson says that they have to do something. Sir Cosmo, looking at his distressed wife, said: "It's out of the question".
Sir Cosmo and Lady Duff-Gordon wasn't physically appear in the film, but they are briefly mentioned when they got on the Emergency Lifeboat 1.
"

Well Francatelli, there goes that beautiful night dress that you're so proud of.

"

—Lady Duff-Gordon to Laura Mabel Francatelli
In the 2012 Miniseries, Lady Duff-Gordon was portrayed by actress Sylvestra Le Touzel. While in this miniseries, she is depicted as an arrogant rich woman and yet quiet.
She was first seen corverged with several famed first class passengers, and she and her husband talked with Mrs. Pauline Caroline Gibson while walking towards the First Class Dining Saloon.
During the dinner, Captain Smith and Lady Manton ask Lady Duff-Gordon if she was having trouble starting her business, which offended her a little.
Lady Manton then commented sarcastically to her husband that Lady Duff-Gordon was very arrogant, thinking she was a queen rather than a seamstress.
Lady Duff-Gordon and her husband are seen socializing with John Jacob Astor and Madeleine Astor throughout the film, they also attend the Widener's party at À la Carte Restaurant on the evening of April 14.
When the Titanic sank, many of the passengers still didn't realize how serious the situation was, but Lady Duff-Gordon did. She and her husband and her Secretary, Laura Francatelli entered Emergency Lifeboat 1, which was being loaded by Fifth Officer Lowe. Francatelli was hesitant to get into the lifeboat, thinking it was very unsafe, but Lady Duff-Gordon countered it by saying: "Don't be a fool, Francatelli. This boat isn't sinking, that one is!".
Lady Duff-Gordon insisted on lowering the boat immediately, but stewardess Annie Desmond said they could not launch the lifeboat with only a few people, while she herself also refused to take her place in the boat. Lady Duff-Gordon sarcastically said: "Well there you are then, we tried!".
Lowe then launched the boat with only 12 people on it.
The passengers on boat 1 watch in horror, as the Titanic gone in the darkness, Lady Duff-Gordon instead commented to Francatelli: "Well Francatelli, there goes that beautiful nightdress that you're so proud of".
Afterwards, Seaman Hawkins suggests returning to rescue the survivors, but Sir Cosmo says that is unsafe, and instead bribes the crew from returning.