Lifeboat 13 was the 7th lifeboat to be lowered from the starboard side of the Titanic.
It was partly filled from the Boat Deck and partly from A Deck after it had been lowered to that level when it was launched under the supervision of Murdoch and Moody at 1:15 A.M.. Again, it was heavily occupied, with over 65 people aboard. Leading Fireman Frederick Barrett was put in charge[1] by boatswain Alfred Nichols. The occupants were mainly Second and Third Class women and children, with some men also aboard including Lawrence Beesley, who subsequently wrote a popular book about the disaster [2] . Dr. Washington Dodge was also aboard, having earlier seen his wife and child aboard Boat 5. He owed his presence aboard the boat to the apparent guilty feelings of Steward F. Dent Ray, who had urged the Dodges to sail on Titanic in the first place. Just before Boat 5 was lowered, Ray bundled Dodge aboard.[3] Others did not want to board at all.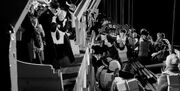 "

Please don't put me in the boat! I'd rather die, I tell you! I've never been in an open boat in my life! I can't do it! No! No!"
"You've got to go, madam, so you may as well keep quiet."

"

—Hysterical Woman and Murdoch, A Night to Remember (1958 film)
A woman on deck became hysterical, crying: "Don't put me in that boat! I don't want to go in that boat! I've never been in an open boat in my life!" Ray told her: "You have got to go and you may as well keep quiet."[4]
While it was being lowered the lifeboat was nearly caught by "an enormous stream of water, three or four feet in diameter"[5] coming from the condenser exhaust which was being produced by the pumps, far below, attempting to purge the water that was flooding into Titanic. The occupants had to push the boat clear using their oars and spars and reached the water safely. The wash from the exhaust caused the lifeboat to drift directly under Boat 15, which was being lowered almost simultaneously. Its lowering was halted just in time, with only a few feet to spare. The falls aboard Boat 13 jammed and had to be cut free to allow the boat to get away safely from the side of Titanic.[6]
After the boat managed to push out from the side of the ship, they realized they had nobody to command, so they elected Leading Fireman Barrett to take charge. Barrett ordered the men to put out the oars and start rowing away from the ship.[7]
A few hours later the occupants saw the Carpathia coming to their rescue and began rowing towards it to an accompaniment of the song "Pull for the Shore, Sailor."[8] They were picked up at about 6:30 am.[1]
Frederick Barrett (in charge)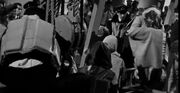 In the 1953 film, Lifeboat 13 was mentioned by Second Officer Lightoller as the last of the lifeboats. Emma the stewardess, was seen on a boat calming the ladies while helping them put on their lifebelts.
When the boat was loaded on A Deck, Ida Straus refused to get into the boat because she didn't want to leave her husband, even though Lightoller had said it was the last boat, so the boat was launched without her.
It should be noted that in real life, Lightoller was never in responsible for launching the odd-numbered lifeboat (starboard side boats) which Murdoch was responsible for. Understandably, it seems that lifeboat 13 in this film appears to be located on the port side, not starboard.
In S.O.S. Titanic, as the boat was being launched and passed into A Deck, lookout Reginald Lee called out a Lawrence Beesley, asking if there was a woman behind him. Beesley said no, so Lee told Beesley to jump into the boat as there was still room on the boat.
Beesley, at the urging of Lee and an old woman, jumped up and nearly fell into the water, but was quickly pulled over by the passengers. Shortly thereafter, boat 15 was launched and was right on top of boat 13. Lee shouted to stop the launch of boat 15, while Frederick Barrett and several other men tried to cut the falls of the boat.
It should be noted that boat 13 in this film looks like it was launched on the port side, but that is understandable because the only set available on it is the port side set.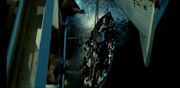 In the 1997 film, the chaos during the launch of lifeboats 13 and 15 is clearly shown. When boat 15 was launched by Murdoch, boat 13 had not yet removed its falls and was filled with water from the pump, causing the occupants of boat 13 to panic and scream. Barrett and several other crew then tried to cut the falls.
In the 2012 miniseries, the loading of boats 13 and 9 on A Deck was so chaotic that Murdoch had to open fire. John and Muriel Batley were initially allowed onto the boat, but were preceded by a group of third-class women and children led by steward John Hart, including Mary Maloney and her four children. Lady Manton refused about getting into boat 13 because she didn't want to be surrounded by second and third class passengers, while Muriel Batley failed to find a place on the boat.
Murdoch sends Hart in charge of boat 13, and says the boat must not add more passengers or the boat will split. Theresa Maloney, who overheard Murdoch and Hart's conversation, was hysterical and jumped out of the boat. Mary then asked her husband and Peter Lubov to look for Theresa, while the boat was immediately launched.
There were many inaccuracies, Murdoch was never on the A Deck and certainly didn't open fire there. Steward John Hart escaped on boat 15 instead of 13 and he certainly wasn't in charge for the lifeboat, despite the fact a seaman is in the boat. The idea of ​​"the boat will split" was so fictional, lifeboat 13 was actually loaded with 70 people, more than its original capacity.
Community content is available under
CC-BY-SA
unless otherwise noted.