Lifeboat 3 was the third boat to be lowered from the starboard side, and the third one lowered overall. It was one of the 14 standard wooden lifeboats, and it departed with around 38 people, even though other sources stick to 32.
Once all the available women and children had been put in to the boat, men, including a handful of the ships firemen, were allowed to jump in. Then at around 12:55 A.M., Murdoch and Lowe supervised the lowering of the boat. At the same time, Lifeboat 6 was being launched on the other side by Captain Smith and Second Officer Lightoller.
Able seaman George Moore was in command of lifeboat 3. In the water, it is said that two of the boats oars were lost overboard, possibly due to the effect of the cold on the crew's hands. At least two survivors who were aboard the boat stated that there was no light in the boat. With the lack of light in the boat, the passengers burned what they could find to try to make themselves visible to Carpathia.
All the passengers and crew aboard lifeboat 3 were rescued by Carpathia and taken to New York.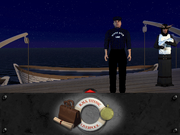 Lifeboat 3 received no special attention in any Titanic film. However, it was mentioned in the game Titanic: Adventure Out of Time.
Carlson wakes up at 1:10 AM. If he goes to the deck immediately, he'll see a seaman guarding lifeboat 3. Beatrix Conkling is also there, waiting to board the lifeboat with baby Edward.
Seaman: I'm swingin' out boat 3 directly! Line starts in the back, mate!

Carlson: Can you help me?

Seaman: Help?! Now?! I'm busy! We have plenty of women and children for boat 3, here.

The lifeboat is gone after the first cutscene in the sinking part of the game, which starts when the clock hits 1:20 AM. Mrs. Concling will have moved on to Boat 9.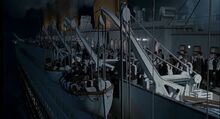 In 2012 Titanic Miniseries, one of the Allison family servants, Sarah Daniels was escaped on Lifeboat 3. Lorraine Allison refused to be separated from her mother, Bess. So she took her off from Lifeboat 3 to search Alice and Trevor. Grace Rushton also refused to take her place in Lifeboat 3 because her dog is still remain on the kennels, but later escaped on Emergency Lifeboat 2.
Community content is available under
CC-BY-SA
unless otherwise noted.