Lifeboat 5 was the second boat lowered from the Titanic, launched at 12:50 A.M.. It was launched from the starboard side, like Lifeboat 7 10 minutes earlier. Third Officer Pitman was sent in charge of the boat, having five other crew with him as well as two stewardesses. Passengers were still a bit reluctant to enter the boats at this time.
"In our party were Mr. and Mrs. R. L. Beckwith and Mrs. Beckwith's daughter, Miss Helen W. Newsom, all of New York. As we started out from our staterooms orders were being shouted to put on life belts. We did so quickly and then ran for the top deck, the superdeck. There was a strained calmness aboard the ship. We met Captain Smith and he shouted to all to put on life belts. Most of the passengers were gathering on deck A to get into the lifeboats. Mr. Ismay was directing the launching. When Mrs. Beckwith reached the second boat she asked Mr. Ismay if the men could get in too. 'Certainly, Madam,' answered Mr. Ismay. Then we stepped into the boat. After we were in I heard Mr. Ismay calling out, 'Are there any more to get into this boat? None appeared. Mr. Ismay was calm and cool and giving orders without any indication of fear. We waited three minutes, and when no one else appeared he directed that the boat be lowered. The officer in charge of our boat did not dare row back toward the Titanic for fear we would be swamped by some of the hundreds we could see swimming not far away. We floated until dawn and were about one mile away from where the Titanic went down when the Carpathia picked us up....
"
    - Mr. Behr, New York Herald, Saturday, April 20, 1912
Several couples entered the boat, including the Kimballs, Goldenbergs, Chambers and Harders. Mrs. Stengel did not want to leave her husband. He stayed on the ship but later found refuge in lifeboat 1. Mrs. Warren entered the boat with Miss Ostby and believed Mr. Warren had followed her into the boat, but he stayed on the ship and was lost. When no more women were found, some men passengers were allowed to enter it.
During the process, Bruce Ismay was complaining about how slowly the boat was getting filled. "Hurry up, there is no time to waste! Fill the boat with women and children!", he said to Pitman, who had no idea who Ismay was.
During the lowering, Ismay freaked out again, this time to Lowe. He grabbed the falls, shouting "Lower away! Lower away!" Lowe did not know Ismay either and yelled back: "If you get the hell out of the way, we'll be able to do something! You want me to lower faster? You'll have me drown the lot of them!" Ismay was completely stunned. This was exactly the same harsh voice his father always used. Without saying a word, Ismay walked forward. The seamen at the boat were shocked as well, like this incident between Ismay & Lowe was the worst that could happen that night.[1]
When the boat was in the process of being lowered, some people were slightly anxious, as it seemed they were going to 'turn turtle.'
After having rowed away, they encountered lifeboat 7 in mid-ocean and four people changed boats. Third Officer Pitman said that he wanted to row back to look for survivors in the water, but apparently passengers persuaded him not to do this.
Based on a lifeboat summary by Peter Engberg
Passengers & crew on board
[
edit
|
edit source
]
Mrs. Warren thought there were 35 or 36 people in the boat, Officer Pitman estimated over 50, Karl Behr thought there were about 40, Mrs. Cassebeere thought 37 and Dr. Frauenthal stated 34, half of whom were men.
There were probably 36 or 37 people in the boat. No. 5 was one of the first boats to reach the Carpathia.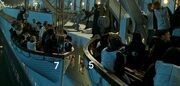 In the 1997 film, in a deleted scene, Bruce Ismay get panicked and told the crew to lower boat 5 immediately, and even grabbed the falls to make boat 5 launch faster.
Fifth Officer Harold Lowe saw this and scolded Ismay, not knowing that Ismay was the Chairman of the White Star Line. Ismay had told Lowe that he didn't know who he was, but Lowe didn't care because he was a passenger while Lowe was the bloody officer and told Ismay to leave.
In The Legend of the Titanic, The Duke is placed into this lifeboat by Elizabeth Camden and Don Juan.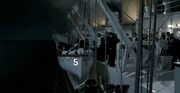 In the 2012 miniseries, after Second Officer Lightoller launched boat 3, he and Lowe began to load lifeboat 5. Some of the first class passengers entered this boat, included Madeleine Astor, Léontine Aubart and her maid Emma Sägesser, also Marian Thayer. Jack Thayer was rejected to entry boat 5 by Lowe, even after his mother begged him that Jack was only 17 years old.
Madame Aubart commented that the boat wasn't even fully loaded, but Lightoller and Lowe said that it was only women and children, as it was an order. Madame Aubart replied that it should be women and children first, not only. Lightoller and Lowe were silent for a moment but still wouldn't allow the men to enter when the boat was launched.
Boat 5 will later be one of several lifeboats gathered by Lowe, where Marian Thayer later reunites with her son Jack.
It should be noted that lifeboat 5 was lowered before lifeboat 3, not after. The officer in charge of the launching was Murdoch, not Lowe or Lightoller who was never even on the starboard side. Also, men are allowed to enter the boat.
Madeleine Astor, Marian Thayer, Madame Aubart and Emma Sägesser were never in the same lifeboat. Madeleine and Thayer escape in boat 4, while Aubart and Sägesser in boat 9.
Community content is available under
CC-BY-SA
unless otherwise noted.