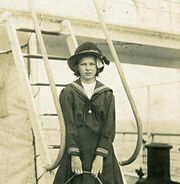 Violet Mellinger was born on February 22nd, 1899 in Essex, England.
She boarded the Titanic at Southampton as a Second Class passenger, together with her mother, Elizabeth Anne Mellinger. To reach their destination of Bennington, Vermont, they bought ticket number 250644 for £19 10s.
Miss Mellinger and her mother survived the sinking. They entered Lifeboat 14 and were later transferred to 12 by Fifth Officer Lowe.
She emigrated to Canada in 1915, and in 1923 married a Welland, Ontario banker named David Daniel Mann. They had four sons: Alex, Bill, Don and Carl.
In an interview with the Toronto Star on April 15th, 1974; she said:
"We were asleep in our berths when a man banged on our door and told us to put on warm clothes and lifebelts and to get on deck."
She said she and her mother were hurled into a half empty lifeboat and she shivered in the drifting boat, the cries of the drowning all around her.
"I could see the lights of the ship starting to go under water, then soundlessly, perhaps a mile away, it just went down. It was gone. Oh yes, the sky was very black and the stars were very bright. They told me the people in the water were singing, but I knew they were screaming."
On April 15th, 1939; she and her mother, together with Emma Bliss and Samuel John Collins, met for a Titanic reunion dinner at the Royal York Hotel in Toronto.
Madeleine died on May 27th, 1976; in Toronto. Her cremated remains were interred in St. John's Ridgeway Anglican Cemetery near Welland, Ontario.