Welcome to Titanic Wiki, the wiki about everything related to the RMS Titanic, her sinking, everything related to her, and all the popular media surrounding her.


Would you like to help out building this Fandom? Go to a random page, find some [[::Category:Article stubs|stubs]] who could use your help, or make a new page! And don't be afraid to ask one of our Officers to help you.
| | | | | |
| --- | --- | --- | --- | --- |
| The RMS Titanic was constructed at the Harland and Wolff shipyard in Belfast between 1909 and 1912. She was the largest ship in the world, along with her sisters Olympic and Gigantic, and was going to bring the White Star Line back into competition wth her old rival Cunard. | | On Apil 10th, 1912, at 12:00 PM, Titanic started her maiden voyage. She was setting sail in Southampton, England leaving to Cherbourg, France and Queenstown, Ireland. After that, she started her transatlantic trip to New York. | | On 14 April, 1912, at 11:40 P.M., the RMS Titanic struck an iceberg. Two hours and forty minutes later, she was gone beneath the waves. Of the 2208 passengers and crew, 1496 died. The sinking of the Titanic has inspired many people ever since. |
Titanic Wiki is the first and largest wiki about the RMS Titanic, founded on 25 September, 2006. This wiki's format also allows anyone to create or edit any article, so we can all work together to create a comprehensive database for fans of the Titanic.
Right now, we have reached a size of 1,836 articles with 50,272 edits, and has 13 active users. Topics covered include everything related to the Titanic, also including the 1997 Titanic film by James Cameron.

FEATURED ARTICLE: William Murdoch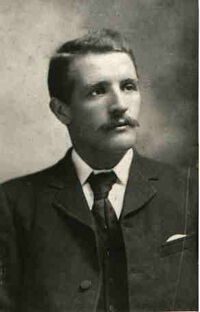 Lieutenant William McMaster Murdoch RNR (February 28th, 1873 - April 15th, 1912) was the First Officer aboard the RMS Titanic, which sank in the Atlantic in 1912. Murdoch was on duty that night when he heard the shout: "Iceberg right ahead!", before he famously replied: "Stop engines, hard a-starboard, full astern", and then rang the warning bell.
USEFUL PAGES
| | | |
| --- | --- | --- |
| THE TITANIC | PASSENGERS AND CREW | MEDIA RELATED |