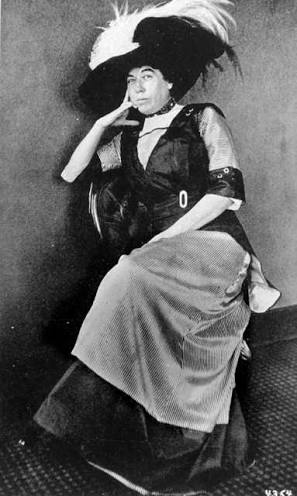 Margaret "Molly" Brown (July 18th, 1867 - October 26th, 1932) was a First Class passenger of RMS Titanic. She survived the sinking. After her death, she became known as Molly Brown.
Biography
[
]
Early Life
[
]
She was born on July 18th, 1867; in Hannibal, Missouri, the daughter of John Tobin and Johanna Collins, both Irish immigrants.
Her father, John Tobin, was widowed with one daughter, Catherine Bridget. When he met Johanna Collins, Johanna was also widowed with one daughter, whose name was Mary Ann. John and Johanna married and had four additional children: Daniel (1863), Margaret (1867), William (1869), and Helen (1871).
Margaret grew up in a cottage just blocks from the Mississippi River, and attended the grammar school run by her aunt, Mary O'Leary. As a teenager she worked stripping tobacco leaves at Garth's Tobacco Company in Hannibal.
At the age of eighteen she followed her sister, Mary Ann Tobin Landrigan, and Mary's new husband Jack Landrigan, to Leadville, Colorado, where they established a blacksmith shop. Margaret shared a cabin with her brother, Daniel Tobin, who worked in the mines and eventually became a successful mine promoter. Margaret, known as Maggie until she married, went to work for Daniels and Fisher Mercantile in Leadville, where she worked in the Carpets and Draperies department.
Marriage
[
]
During the early summer of 1886, she met James Joseph ("J.J.") Brown, a miner whose parents had also immigrated from Ireland. They married on 1 September, 1886, at the Annunciation Church in Leadville, and lived in J.J.'s cabin in Stumpftown, a small, primarily Irish community up the hill from Leadville. The Browns had two children: Lawrence Palmer, born in 1887, and Catherine Ellen ("Helen"), born in 1889. After the birth of Lawrence, the Browns bought a house in Leadville and were eventually joined by members of both their families.
While her children were young, Margaret was involved in the early feminist movement in Leadville and the establishment of the Colorado Chapter of the National American Women's Suffrage Association. She also worked in soup kitchens to assist families of Leadville miners. When the Sherman Silver Act was repealed in 1893, Leadville was thrust into a deep depression and the unemployment rate was 90 percent. J.J. Brown, who had become superintendent of all the Ibex mining properties, had an idea. Convinced that the Little Jonny Mine might become a producer of gold rather than silver, he devised a timber-and-hay bale method to hold back the dolomite sand that had prevented them from reaching the gold at the lower depths of the mine. By October 29th, 1893; the Little Jonny was shipping 135 tons of ore per day, and Brown was awarded 12,500 shares of stock and a seat on the board. Over the years he became one of the most successful mining men in the country.
On April 6th, 1894; the Browns purchased a home on Pennsylvania Street in Denver and built a summer home, Avoca Lodge, in the foothills. Margaret became a founding member of the Denver Woman's Club, part of a network of clubs which advocated literacy, education, suffrage, and human rights in Colorado and throughout the United States. She raised funds to build the Cathedral of Immaculate Conception as well as St. Joseph's Hospital, and worked with Judge Ben Lindsey to help destitute children and establish the first Juvenile Court in the country, which eventually became the basis for today's U.S. juvenile court system. She also attended the Carnegie Institute in New York, where she studied literature, language, and drama. In addition to raising two children of her own, she raised the three daughters of her brother Daniel: Grace, Florence, and Helen Tobin, whose mother had died when they were young in White Pine, Colorado.
Politics
[
]
Margaret Tobin Brown was one of the first women in the United States to run for political office, and ran for the Senate eight years before women even had the right to vote. On July 25, 1914, with Alva Vanderbilt (Mrs O.H.P.) Belmont, she organized an international women's rights conference at Marble House in Newport, Rhode Island, which was attended by human rights activists from around the world. A lifelong advocate of human rights, Margaret was also a prominent figure following the Ludlow Massacre in Trinidad, Colorado, in April 1914, a significant landmark in the history of labor rights in the United States.
Aboard the Titanic

[

]
She boarded the ship at Cherbourg on Ticket 17610 at a price of £27 14s 5d, accompanied by Emma Eliza Bucknell, a rich Philadelphian, and Emma's personal doctor, Arthur Jackson Brewe.
She survived the disaster in Lifeboat 6. When the leader of Lifeboat 6, Robert Hichens, didn't want to turn around and help survivors in the water, she eventually took control of the boat to try and save some of the survivors. The press called her the "Unsinkable" Molly Brown.
Death
[
]
While staying at the Barbizon Hotel in New York City, Margaret Brown passed away in her sleep on the October 26th, 1932, at 10:55pm. She was 65.
Portrayals
[
]
Main article: Maude YoungIn the 1953 film, Brown's name was changed to Maude Young, portrayed by

Thelma Ritter

, and her gold mining fortune became a Montana lead mining fortune.
Margaret Brown was portrayed by Tucker McGuire in A Night to Remember (1958).
Margaret Brown was portrayed by Cloris Leachman in S.O.S Titanic (1979).
Margaret Brown was portrayed by Marilu Henner. The 1996 miniseries gave a more accurate portrayal of Brown's behavior. She said to Hichens in episode 2: "One more word and I'll throw you overboard. Come on, girls!"
She was portrayed by Kathy Bates in James Cameron's Titanic. In that movie, she is depicted as well-mannered and friendly but is looked down by other first class passengers as "new money". Brown teaches Jack Dawson about upper-class manners and lends him a tuxedo for a first class dinner.
A few huge mistakes were made about her character. The first one is made even before she first appeared. Old Rose said about her, "We all called her Molly," while her friends actually called her Maggie and she only became known as Molly after her death.
When the ship is sinking, Maggie appears to be scared for the authority of Hichens, and when she wanted to go back, Hichens threatened to throw her overboard. This is a major error, as it was the other way.
She was portrayed by Judy Prestininzi in Ghosts of The Abyss (2003).
In the 2012 miniseries, Margaret Brown was portrayed by Linda Kash.