Maude Slocombe (July 31st, 1881 - July 30th, 1967) was a Turkish Bath Stewardess of the Titanic. She survived the sinking and was photographed with colleagues after the disaster.
She was baptized on August 28th that same year in St Andrews Church, Barnsbury. She was the daughter of James William Walden (1854 - 1894) and Louisa Jane Pengelly (1860 - ?), both natives of London who were married in 1880.
Maude had five known siblings: Florence Eleanor (b. 1883), James Thomas (b. 1885), Harry Alfred (b. 1887), Charles William (b. 1889) and Matilda Rose (b. 1894).
Maude first appears on the 1891 census when she and her family were living at 44 Clayton Street, Islington, and her father was described as a printer compositor; he would die in 1894 aged 39. The remaining family don't seem to appear on the 1901 census.
Maude gave birth to a son, Stanley, in late 1901, but it is uncertain who the child's father was. Maude was later married on June 2nd 1906 in Holy Trinity Church, Islington, to John Sylvester Slocombe (b. 1877 in Hackney, son of John Sylvester Slocombe and Jane Seymour). At the time of the marriage, John was described as a bookbinder by profession. He would leave the UK for Québec on May 14th, 1910 on the Megantic. He crossed into the USA on October 20th, 1911.
Maude appears on the 1911 census living at 350 St Ann's Road, Tottenham, and she is described as a married masseuse. Her son Stanley was listed as living at 70 Offord Road, Islington, with his maternal grandmother Louisa Walden and his aunts and uncles.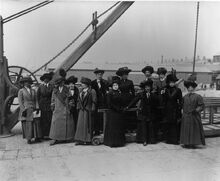 When Maude signed on to the Titanic, on April 9th, 1912, she gave her address as 8 Leopold Terrace, Tottenham, London. Her last ship had been the Olympic. As a Turkish Bath stewardess, she received monthly wages of £4.
Maude described parts of the Titanic as remaining in a semi-completed condition and with the odd half-eaten sandwich left in various corners which she laughingly attributed to the builders being Belfast men. She most likely shared a cabin with Turkish Bath attendant Annie Caton.
In a 1957 interview, Mrs Slocombe later recounted that she was in bed at the time of the collision and was alerted by a thud. Rising, she went out into the passageway and encountered Second-in-command Steward George Charles Dodd who told her to get dressed and go up on deck, but when she pressed for an explanation as to what was wrong, he replied that he did not know. Upon reaching the upper decks Maude described a calm and almost "cheerful" atmosphere and had high praise for the conduct of the crew. Upon an attempted return to her cabin for some personal possessions, she was halted by rising water and she returned to the upper decks.
Although Maude would later claim she was in the last lifeboat to leave the Titanic, it is generally believed that she was rescued in lifeboat 11, as she described her boat as being loaded with 72 persons. From her vantage point in the lifeboat Maude stated she watched the final moments of the ship and claimed to have heard the band play Nearer My God To Thee. In the morning before her rescue by the RMS Carpathia, she recalled seeing lots of ice and icebergs around. Whilst on the Carpathia bound for New York, Maude would later tell of the attitude of some of the female survivors who expressed disgust that "common" crew men and women had survived whilst their own husbands had been lost. Maude returned to England aboard the Lapland.
Maude apparently returned to work for the White Star Line but she would later emigrate in 1914 to the USA, arriving in New York on April 13th, 1914 aboard the Saint Paul. She would return to her native England several times, lastly, it appears in 1949. Her son Stanley joined her in 1925.
On the 1920 USA census, Maude and her husband John were both living in Manhattan. Between this and the next census in 1930, she was widowed. On the latter census, she was by now living in the Bronx, New York, with her son Stanley.
During the 1950s, Maude corresponded with Walter Lord during his research for A Night to Remember and she is credited in his book alongside her anecdotes of the disaster.
Maude died in the Bronx, New York, on July 30th, 1967; one day short of her 86th birthday.
Portrayals
Edit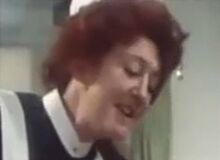 Maude Slocombe was portrayed by Anna Quayle in S.O.S. Titanic (1979).
Community content is available under
CC-BY-SA
unless otherwise noted.