Michel Marcel Navratil was a Second Class passenger of the Titanic. He survived the sinking.
He boarded the Titanic at Southampton with his father, Michel, and brother Edmond. They were travelling under the assumed name of Hoffman. Mr. Navratil had stolen the boys from his estranged wife, Marcelle.
During the voyage the boys were looked after once by Bertha Lehmann, a Swiss girl who spoke French but no English, while their father played cards for a few hours. It was the only time he let them out of his sight.
Michel recalled the voyage in an interview:
"A magnifacent [sic] ship!...I remember looking down the length of the hull - the ship looked splended [sic]. My brother and I played on the forward deck and were thrilled to be there. One morning, my father, my brother, and I were eating eggs in the second-class dinning [sic] room. The sea was stunning. My feeling was one of total and utter well-being."
Later, he described the events on the night of the sinking:
"My father entered our cabin where we were sleeping. He dressed me very warmly and took me in his arms. A stranger did the same for my brother. When I think of it now, I am very moved. They knew they were going to die."
The boys were taken up to the boat deck where they were put in Collapsible D, the last boat to be launched. Michel, Jr., recalled that just before placing him in the boat, his father gave a final message:
"My child, when your mother comes for you, as she surely will, tell her that I loved her dearly and still do. Tell her I expected her to follow us, so that we might all live happily together in the peace and freedom of the New World."
    - Michel Navratil
He continued to describe his experiences in the lifeboat:
"I don't recall being afraid, I remember the pleasure, really, of going plop! into the life-boat. We ended up next to the daughter of an American banker who managed to save her dog - no one objected. There were vast diffrences [sic] of people's wealth on the ship, and I realized later that if we hadn't been in second-class, we'd of [sic] died. The people who came out alive often cheated and were aggressive, the honest didn't stand a chance.
We had our back to Titanic and went to sleep. The next morning, I saw Carpathia on the horizon. I was hauled abord [sic] in a burlap bag. I thought it was extreamly [sic] incorrect to be in a burlap bag!""
Aboard the Carpathia, the boys, unable to speak English, were dubbed the Orphans of the Titanic, when they turned out to be the only children who remained unclaimed by an adult. First Class survivor Margaret Hays agreed to care for them at her New York home (304 West 83rd Street) until family members could be contacted.
Marcelle, recognized her boys from newspaper stories and was brought over to America by the White Star Line where she was reunited with them on May 16th.
They sailed back to France on the Oceanic.
Michel went to university where he married a fellow student in 1933. He went on to earn his doctarate, becoming a professor of psychology. In 1987, he returned to the U.S. for the first time since 1912 to mark the 75th anniversary of the sinking. The last living male survivor, he lived in Montpellier, near Nice, France. On August 27th, 1996; he visited his father's grave for the first time in 84 years.
Michel died on January 30th, 2001 at the age of 92.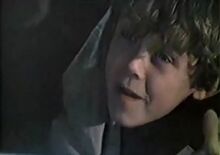 Michel Navratil has appeared several times on S.O.S. Titanic. He and his brother were escorted by his father to one of the lifeboat, his father was not allowed to accompany them by an officer, first class passenger Irene Harris carried Edmond and stopped Michel who was trying to get out of the lifeboat, his father said goodbye to his children in French, making Irene didn't understand what he was saying.
Michel stares in horror as the Titanic has completely gone, while his father is still on the ship. Michel and Edmond were pulled onto the RMS Carpathia using a canvas bag. On the Carpathia, he and Edmond played with Edith Louise Rosenbaum's "Lucky Pig".
Community content is available under
CC-BY-SA
unless otherwise noted.