"

Her name was Rose Dawson back then. Then she marries this guy named Calvert. They move to Cedar Rapids and she punches out a couple of kids. Now Calvert's dead and, from what I hear, Cedar Rapids is dead.

"
Mr. Calvert was the late husband of Rose Dewitt Bukater who is mentioned in the 1997 film Titanic. However, he still appears as a photograph, played by an uncredited actor.
Biography
[
]
Early Life
[
]
He was probably born around 1890s. He then met an actress, Rose Dawson around 1920s. Eventually they fell in love and decided to get married, and moved to Cedar Rapids, USA where they had two children.
Happily Married
[
]
Unbeknownst to Calvert, Rose apparently has a past that she hides, such as her romance with Jack Dawson, as well as her failed engagement to a steel baron, Caledon Hockley. However, he and Rose still love each other and Calvert always supports Rose to reach her dreams.
Death
[
]
It is not known the cause and exact date of Calvert's death, but it is clear that it was before 1996, leaving his widow Rose to live only with her granddaughter Elizabeth Calvert.
Legacy
[
]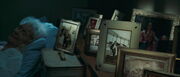 "

And I've never spoken of him until now. Not to anyone. Not even your grandfather. A woman's heart is a deep ocean of secrets.

"
Calvert leaves a house occupied by Rose and his granddaughter Lizzie, where Rose spends her time making pots.
When Rose is traveling, she always brings all of her photos, including photos of Calvert. Until in 1996, Rose and Lizzie were brought to Keldysh by Brock Lovett's crew. Where she shared all the details about the Heart of the Ocean and her past while on Titanic, including her romance with Jack Dawson, which eventually inspired Rose to live a happy life with Mr. Calvert. Even Rose also told Lizzie that her grandfather didn't know anything about her past.
Trivia
[
]
To be added